1940s Weekend 2017 Thank You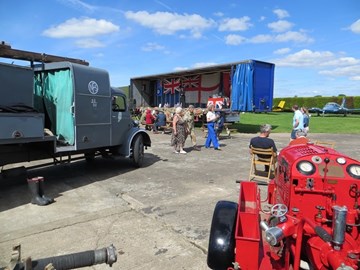 We have now come to the end of our 1940s Weekend 2017 that enabled us to commemorate an evocative era in our history and the two day event was well attended by the public.

On behalf of the museum trustees we would like to send out very big thank you the following: all the of the re-enactors, promenaders, exhibitors, their friends / families and their wonderful displays / exhibits; Fiona Harrison & her partner Paul; the various stall holders; Newark Community First Aid; the museum staff, aircraft openers, event organisers and volunteers who helped during the build-up, during and after the event.

An extra special thank you goes to everyone who came along in period costume and by so doing created a marvellous 1940s atmosphere

The BBMF flypasts on both days were superb, so a big thank you to everyone involved at RAF Coningsby.

The Museum organisers and the Trustees are planning to hold a debrief meeting and will consider whether or not to try and organise a similar type of 1940s event in 2018. As ever details will be posted here, via our Facebook page or our Twitter feed – have a great time during what is left of the summer everyone and thank you all for our support.