1940s Weekend 2019
Thank You (updated 01.11.19)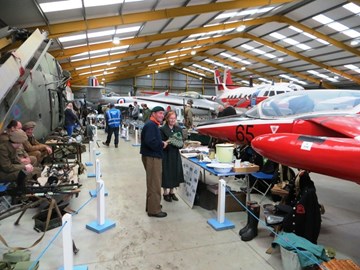 Update 01.11.19 - In the last 24 hours we've had a 'raft' of emails arrive via the event email address, which were sent before the event. These mainly relate to promenaders wishing to book in to attend before the original booking deadline last week; around that time we tried to flag up the problems that we were having with all museum email and we're sorry to anyone who missed out on the free attendance offer. We will be responding to each of the individual emails. Sorry!!

Expanding on yesterday's special thank you message below; we would again like to thank everyone for the wonderful turnout today in much better weather conditions and to everyone who helped make the day a great success.

We are very sorry to those of you who got caught up in the horrendous traffic situations on Sunday. When we selected our event dates we were not aware of the other events on the Showground and the ensuing traffic issues they caused. In the morning we did our best to filter out our visiting traffic from those people attending 3 different other events.

After lunch when we noticed similar problems for people trying to leave the Showground, we did turn round our plans and allowed our visitor to leave via the Drove Lane gate behind Hangar 2; we hope this improved your departure a little bit.

The Museum organisers and the Trustees are planning to hold a debrief meeting and will consider whether or not to try and organise a similar type of 1940s event in 2020. Some very interesting ideas have been suggested by the participants at this weekend's event, which we will analyse and cost before making a final decision for 2020. As ever details will be posted here, via our Facebook page or our Twitter feed – have a great time during what is left of the autumn everyone and thank you all for our support.

Saturday Thank You Message

We have now come to the end of the first day of our Autumn 1940s Weekend and we would like to send out an interim Newark Air Museum THANK YOU to everyone who attended the event today, despite some horrendous weather conditions.

This extra special thank you goes out especially to the following people: all the of the re-enactors, promenaders, exhibitors, their friends / families and their wonderful displays / exhibits; Fiona Harrison & her partner Paul Marsden; the various stall holders; Newark Community First Aid; the museum staff, aircraft openers, event organisers and volunteers who helped during the build-up / break-down and during the event.

We would also like to add a mention for the Newark Showground staff and the Motor Auction staff whose flexibility helped us find alternative car parking 'solutions' on what was a very wet site!

The weather forecast is looking a lot better tomorrow and we hope that some autumnal sunshine will, in a small way help to compensate for the wet conditions today.

From the feedback today we know that people have travelled great distances to attend / support the event and we're hoping that lots of visitors will turn out tomorrow to come and join in the fun; and thereby help us to commemorate an evocative era in our history.

Finally for now don't forget that we change the clocks tonight (an extra hour in bed) and we also recommend approaching the museum along Drove Lane tomorrow from the A17 direction, as this should be easier than trying to drive in from the A46 direction.