Indoor Aeroboot Sellers Information
Updated 07.04.19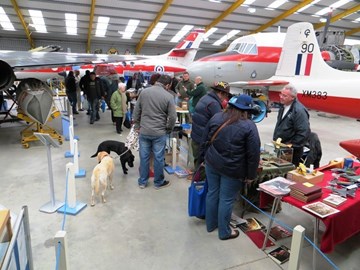 As has become the custom we are pleased to provide listing details to advise what types of item will be offered for sale at the Spring Indoor Aeroboot / Aerojumble, on Saturday 13th April 2019. #Aeroboot #Aerojumble

Plastic kits, decals & books; Books, kits & diecasts; Books, magazines & photos; World War II aircraft parts; Military books; Instrumentation, books & memorabilia; General aviation items; World War II dials & models; Assorted RAF items; Mixed aviation items & some clothing; Aviation books; Ejection seat parts, prints & cards; Patches & photos; Instruments; Instrumentation, books & aviation memorabilia; Models & militeria; Aviation books & kits; Aircraft parts; Badges & insignia; Aircraft parts; PA28 aircraft parts; aircraft parts & instruments; Aviation books; Diecast models & USAF patches; Instruments & books; Aerojumble & Homefront items; Aviation collectables; Models & 3D printed aircraft; Pictures, prints, books, DVDs & videos; Books & trench art; Books & models; Aviation items & ammunition; Aircraft parts, books & kits; Non-accessed aviation items & instruments from the museum's deep stores; Books & pictures; Kits, models & VTTS raffle; Vintage aviation items, civil & Buccaneer mementoes.

If any sellers would like to have items listed please email us by using this link


Geoff Compton (Table 16)
Ejection seat parts

Vulcan to the Sky Trust (Tables 49 & 50 by the Meteor FR9)
Heritage parts, including Vulcan, Canberra and others
Special Collectables based on Aircraft Parts
Heritage Plastic Model Kits
Wide selection of Cloth Keyrings
Quality pre-loved books
Collector Coins
Wooden and Metal Models
Tickets for Spirit of Great Britain Vulcan Raffle 2019

Tim Moore (Table 33)
Corgi Aviation Archive Die cast 1/72nd Scale
Spitfire`s
AA31902
AA31904
AA31908
AA31912 (Corgi Club)
AA31921
AA31928
Corgi Aviation Archive Die Cast Modern Jets
Nimrod AA35603
Tornado AA33605
Jaguar AA35402
Lightning`s
AA32306 23 Sqn
AA49402 92 Sqn
AA32305 111 Sqn
AA49403 5 Sqn
AA32313 Bruntingthorpe
Franklin Mint Modern Jets
Tornado
Typhoon
Mig 29
USAF Wing Patches... Original...Authentic & Vintage patches
U S Navy Patches
U S Marine Patch
RAF Patches
Various Foreign Air Force Patches... Belgium, Spanish, Canadian, Dutch, German... etc.
Aviation Books and Magazines
World Air Power Journals
Full collection of Take Off Magazine in Binders total of 11 Volumes
Pin Badges... Cups... Wall Plates, Key Rings, Calendars

Newark Air Museum (Tables 46 & 47 by the Wessex)
Aero engine APs
Civil airliner technical publications
Surplus instrument panels (minus instruments)
Various Jane's Yearbooks (donated items that are duplicated in the museum library)
Assorted uniforms (3 suitcases worth)
Further items TBA

By providing this FREE service for event participants the museum accepts no responsibility for transactions between participants in the scheme; and provides no guarantees that the items will be brought along as indicated.

If issues arise that are outside of the museum's control then we reserve the right to remove the service. The museum also reserves the right (without recourse to explain why) to decline listings that are felt to be inappropriate for inclusion on our website.