Cockpit-Fest 2019
News Update 08A (20.05.19)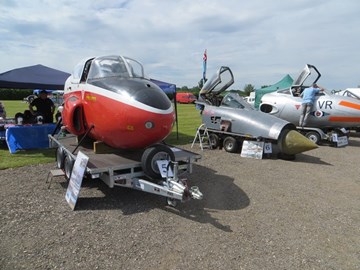 The two day charitable event provides a focal point for cockpit owners from across the UK and takes place on Saturday 22nd and Sunday 23rd June, 2019 at our site in eastern Nottinghamshire.
As with previous Cockpit-Fest's the museum is keen to hear from any company or organisation that might be willing to support Cockpit-Fest, which an annual charitable event, is asked to contact Howard Heeley via Email by clicking THIS LINK!
Booking forms have been sent out to previous participants but the same email link above can be used by potential exhibitors to request participation forms for the event. Apologies if you have not received an invitation but please do make contact so that we can rectify the situation. The following details list those participants who have confirmed their attendance at the event. #CockpitFest19

Cockpits & Cockpit Rigs
Lightning F.6 – XS932 & display
Harrier GR.3 – XV810
Jet Provost T.4 – XS181
Buccaneer S.2B – XW550*
Phantom F.4 – XV490***
Lightning F.6 – XR757***
Lightning F.6 – XS922
Harrier GR.3*
Hunter FGA.9 – XE597
Canberra PR.9 test rig***
Buccaneer S.2B – XX899***
Sea Hawk FGA.6 – WV903
Bristol Brigand B1 cockpit rig** (Sat only)
Shackleton AEW.2 – WL756
Hunter F.1 – WT684 (plus another cockpit)
Jet Provost T.5 – G-BYED
Lightning F.6 – XR754
Lynx AH.7 – XZ220*

1 * These cockpits are totally new to the event.
2 ** A cockpit rig is a term used to describe a cockpit either without its shell, or fitted with an alternative shell. These are used to good effect when original materials are not available.
3*** A cockpit that is resident at the museum

Aircraft Panel Displays

Cockpit panels R1185 radio & helmets & other items
Hunter & HS748 Instrument panels
B-25 Camera ship nose 44-31171/N6578D; Spitfire cockpit &Tornado display
2 x Spitfire instrument panels & other items (Sat only)
Control grips; yokes & panels
Jet Provost and BAC.167 Strikemaster cockpit panels, control column, manuals & ground crewequipment & Small Buccaneer panel
Canberra Instrument panels etc.

Guest Displays

Lancaster W4270 display
Mainly Military Models display
Stephen Dring 3D display/sales
Airfield Research Group display
RAF Balderton Memorial Group Display
RAF Waddington Amateur Radio Club
Author, Keith Wilson book signing – RAF Air-To-Air Refuelling, A Pictorial History
Karen Wilson – Women at War
Callsign Alpha – Cold War Military vehicles & display
Roger Twigg & volunteer helpers
301(Bury St Edmunds) Squadron ATC
Display on Lightning T.5 – XS420
504 Squadron RAuxAF – Recruiting Tent & Mobile Recruiting Vehicle
Harwell Box (Lancaster W/Op)

BBMF Flypasts

Saturday – Spitfire (time t.b.c)
Sunday – Hurricane & Dakota (time t.b.c)

Aircraft Opening

Museum volunteers will endeavour to open many of our aircraft for public visiting and viewing throughout the weekend. Please note that a small additional charge is made to access museum aircraft.
Photo Opportunities

A number of Exhibitors and Museum Volunteers will spend part of each day wandering around in period military clothing and flying clothing. Visitors wishing to make use of these as possible photo opportunities only have to ask.
Special Notice

It should be noted by visitors that as some of these exhibits travel many miles to be here for the weekend, it must be expected that many will start to leave the site from 2pm on the Sunday. We therefore recommend early viewing to avoid disappointment.
The above information is correct at the time of release. Owners of the exhibits listed have recently made the commitment to attend Cockpit-Fest with these exhibits. This information should not be regarded as a guarantee that the listed item will be in attendance.
Finally don't forget the Aeroboot / Aerojumble Aviation & Avionics Sale that runs alongside Cockpit-Fest; please check out booking details elsewhere on the Events page.