Cockpit-Fest 2022
News Update 02 - (15.05.22)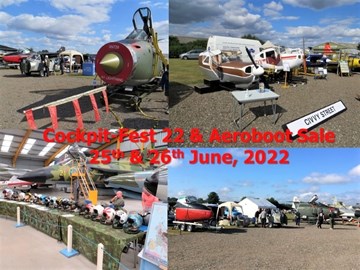 The two-day charitable event provides a focal point for cockpit owners from across the UK and this year it is back in its normal June timeslot and takes place on Saturday 25th & Sunday 26th June, 2022 at our site in eastern Nottinghamshire.
As with previous Cockpit-Fest's the museum is keen to hear from any company or organisation that might be willing to support Cockpit-Fest, which is an annual charitable event, is asked to contact Howard Heeley via Email by clicking THIS LINK!
Booking forms have been sent out to previous participants but the same email link above can be used by potential exhibitors to request participation forms for the event. Apologies if you have not received an invitation but please do make contact so that we can rectify the situation.
The following details list those participants who have confirmed their attendance at the event.
Cockpits & Cockpit Rigs
DH Dove – G-ANAP
Lightning – XS922
Jet Provost T5 – XW302/G-BYED
Lightning F6 – XR757 (Resides at museum)
Buccaneer S2 – XX899 (Resides at museum)
Canberra Test Cockpit (Resides at museum)
Piston Provost Display
Bristol Brigand B1 replica cockpit rig
Buccaneer S1 – XK533*
Jet Provost T.4 – XS181*
Westland Scout – XV130*
1 * These cockpits are totally new to the event.
2 ** A cockpit rig is a term used to describe a cockpit either without its shell, or fitted with an alternative shell. These are used to good effect when original materials are not available.
Aircraft Panel Displays
Lightning XS420 display
BMFA Internal flight sims & external display
Guest Displays
Stephen Dring – 3D display
RAF Balderton Group display
Mainly Military Models display
Airfield Research Group display
504 Squadron RAuxAF – Recruiting Tent & Mobile Recruiting Vehicle
Foden 6x6 heavy recovery + trailer + CVRT Spartan
Vincent Comet M/bike VMP624
Aircraft Openeing
This part of the event is now starting to get back to normal at the museum, however it still relies on the availability of our volunteers.
Special Notice
It should be noted by visitors that as some of these exhibits travel many miles to be here for the weekend, it must be expected that some may leave the site at different times during the weekend. We have marked the individual listings with appropriate details if they intend to leave early
The above information is correct at the time of release. Owners of the exhibits listed have recently made the commitment to attend Cockpit-Fest with these exhibits. This information should not be regarded as a guarantee that the listed item will be in attendance.
Finally, please don't forget the Aeroboot / Aerojumble Aviation & Avionics Sale that runs alongside Cockpit-Fest; please check out booking details that will appear elsewhere on the Events webpage by mid-May.