Cold War Call Up
Saturday 16th & Sunday 17th May 2020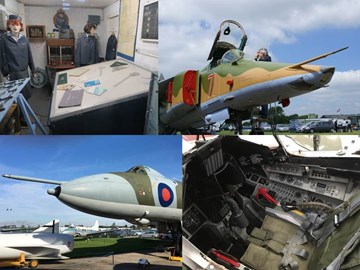 Over the years we have hosted five different, Tribute to the V-Force events at our Gateway Aviation Site in eastern Nottinghamshire close to the border with Lincolnshire.

At previous events the focus has been towards the three V-Force aircraft the Valiant, Victor and Vulcan. However we have now chosen to widen the scope of the event to cover all aspects of the Cold War era. This will allow greater emphasis to be placed on many of the other iconic Cold War era aircraft that are displayed at the museum and thereby giving visitors the chance to get up close and personal with them.

Amongst these types are the Buccaneer, Jaguar, Vulcan, Hastings, Shackleton, Canberra, Lightning, Draken; plus some airframes that are unique aircraft to British aviation museums such as the Viggen, MiG-23 and MiG-27.

The two day event on Saturday 16th & Sunday 17th May 2020 will still include a V-Force reunion, which will take the form of a meet and greet for those veterans wishing to attend.

We are hoping for a diverse range of visiting displays of items from the Cold War period, which given it covers a 50 year time frame leaves plenty of scope. It is expected that displays will located both within the display halls and around the 16 acre site. #ColdWarCallUp20

The two day event is open to the public; normal museum admission rates apply: Adults £9.50, Over 65s £8.50, Children £5.00 and Family ticket [2 adults & 3 children] £26.00.

Invitation forms will be sent out soon when we we expect to be able to start listing the participants who have booked in!

If you are a former member of the V-Force and you would like details of the Meet & Greet sessions please send us an EMAIL via this link!