Day-Night Photo Shoot
Saturday October 28, 2023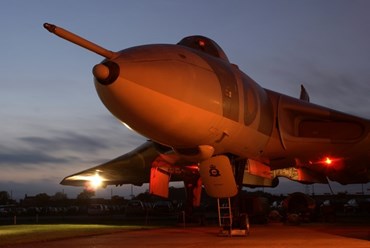 The date for our next Day-Night Photo Shoot event in 2023 has now been set for Saturday October 28, 2023.
Those people on our Mailing List have already been contacted and a good number of places have been booked. To download a booking form in a PDF format PLEASE open this link and follow the booking/payment guidelines.
If you decide to provide us with an email address your details will also be added to the mailing list for advanced notice of future Day-Night Photo Shoot events.
The event will formally commence after the museum closes to the public at 5pm; however anyone signing up for the event will be eligible to arrive at the museum from 1000 hours onwards on October 28th so that you can enjoy a whole day taking pictures around the museum site.

The event will feature illuminated aircraft, ground equipment and some re-enactors; details are listed on the Booking Form.
Admission cost for Day-Night Photo Shoot event is £40 per person and places will be limited to 50 people.

Various payment options are detailed on the booking form, or you can call in at the museum in person.

We will aim to acknowledge the receipt of your emailed booking applications within 24 hours!