Latest Acquisition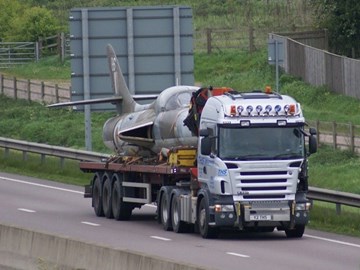 Earlier today our aircraft inventory was expanded by one, when Hawker Hunter T7, XX467 joined the collection.

Funding for the Hunter T7 acquisition has been provided thanks to the generosity of a museum member / trustee. The move from Bruntingthorpe Airfield in Leicestershire was completed by Dave Thomas and associates. XX467 has been placed on long-term loan at the museum.

The Hunter T7 fills a gap in our themed display of RAF training airframes and will help tell the story of RAF fast jet training. It also fulfils one aim of our stated Collecting Policy of acquiring:

"Aircraft used in a Training role."

This particular airframe has a diverse service history both in the UK and overseas and it is not yet known, which colour scheme the aircraft will be repainted in. The aircraft was off-loaded on the Southfield Site and quickly reassembled. It will be restored, repainted and displayed in the same location.

The airframe entered RAF service as XL605 serving with 92 Squadron and was part of the Blue Diamonds Display Team; before then serving with 66 Squadron and 229 OCU. A brief spell then followed as G-9-214, before serving with Saudi AF 70-617 and Jordan AF as 836.

On returning to the UK the airframe was renumbered XX467 and served with 229 OCU and 1 TWU, but was struck off charge in October 1983. During its time on the civil register it operated as G-TVII out of Kemble and Exeter. Currently it is marked as XX467.