Temporary departure of the MiG aircraft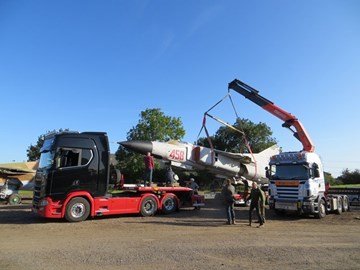 Update 18.09.19 - we have just been advised that the MiG aircraft are due to return to our Gateway Aviation Site on the afternoon of Thursday 26th September 2019, at a time that is still to be confirmed; more news when we get it!

We would like to make potential visitors aware that two of our rarer exhibits will soon be leaving the museum for a period of between four and five weeks.

The aircraft in question are:

Mikoyan-Gurevich MiG-23ML "Flogger – 024003607 "07"
Mikoyan-Gurevich MiG-27K "Flogger" – 61912507006 "71"

Both of these former Soviet aircraft have been on long-term loan to the museum since May 2002. Their owner has recently requested a 'temporary recall' so that they can fulfil other duties elsewhere.

It is anticipated that work to dismantle both aircraft will commence on Wednesday 28th August 2019, with a move off site expected to take place sometime early in the week beginning 2nd September.

Initial indications are that the aircraft will be away from our Gateway Aviation Site throughout September and possibly into early October.