Our Roadmap To Re-Opening
Updated 26.02.21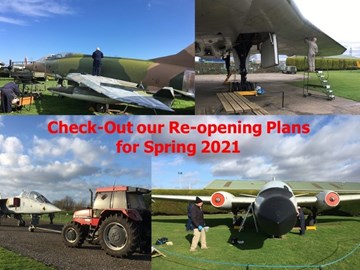 Since the Government's announcements on Monday 22nd February the museum trustees have been checking the details of the announcement and deciding how they might go about re-opening the museum, whilst complying with the regulations. There was some doubt whether or not we might be allowed to open outside from 12th April' 2021, followed by the whole site including Hangars from 17th May, 2021.
On Wednesday 24th February, 2021 we managed to secure clarification from DCMS (Department for Culture Media & Sports) via AIM (the Association of Independent Museums) that suggests we should be allowed to open the outside display areas from 12th April, 2021 albeit the detailed regulations will not be known until mid-March; so things could still change.
With that in mind we are now looking at the following arrangements being made.
Opening outside displays
Opening the external displays at the museum on three days per week, on Friday, Saturday and Sunday commencing Friday 16th April (with the option to switch from Friday to Monday on the May 3rd for the early May Day Bank Holiday Weekend). This would be at a reduced admission rate to reflect the reduced number of exhibits that can be seen.
As part of this re-opening the Museum Shop would also reopen under the changes to non-essential retail & offer take-out service from the Café.
After an assessment of aircraft conditions in March, we plan to instigate a cleaning programme for external exhibits, with the work being undertaken by the museum's working members. We anticipate that this will take place in early April and working to the anticipated Rule of Six Regulations. Arrangements for working members attending the museum to undertake this work will be co-ordinated through the museum's Restoration Manager.
Opening Hangars & inside displays
Our initial aim is towards opening the internal displays at the museum on a normal basis, commencing Monday 17th May; this will be in line with the relevant Covid-Secure Regulations, which may be subject to change.
Current thoughts regarding 2021 Museum Events
Sadly, we have decided to cancel the Cold War Call-Up event that was planned for May, 2021.
We plan to run an Outdoor Aeroboot/Aerojumble on Saturday 3rd July, 2021.
The Cockpit-Fest 21 & Aeroboot event is being rescheduled to take place on the August Bank Holiday Weekend of 28th, 29th & 30th August, 2021.
We plan to run an Autumn 1940s Weekend event on 2nd & 3rd October, 2021

We are also considering arranging an Outdoor Aeroboot for later in October, date TBC.

Please be aware ALL of these proposals could be subject to change by government legislation at any time. We will post regular updates here on our website and also on our Social Media feeds.

You can also join our one-off mailing list that we will us to email a notification of the re-opening date and any additional conditions that might be necessary for a visit. Please use this EMAIL Link if you would like to be added to this notification list.

You will need to resend your details as we will not be mailing out to any previous contacts, this is to ensure that we comply with our GDPR obligations. We will aim to acknowledge your request within 24 hours.
As a volunteer managed registered charity we rely on public admission fees, shop sales etc. to fund our operation and we will be ever reliant on the generosity of our visitors, volunteers and staff in these unprecedented and challenging times.
There are two funding routes that you can use to help us:
You can make a donation right now by following this JUST GIVING weblink.
By using the EASY FUND RAISING site; please use this link to register and start helping to raise funds for the museum right now.