1940s Weekend
Sat 2 & Sun 3 October 2021
Updated 01.10.21 (01)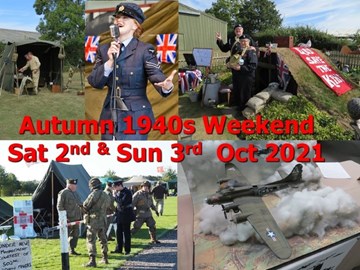 01.10.21 Update- sadly we are receiving a few participant cancellations, due to challenges in securing fuel for their vehicles; sorry about this situation that is out of our control.
Throughout the two days there will be a host of 1940s related activities and entertainment taking place around the museum site, including alongside our famous Anderson Shelter/Dig for Victory Garden; the World War II era ROC Post; and in a marquee that will be erected alongside Hangar 2.
We should be able to accommodate people that we have already sent invitations to, this includes:
- Military or civilian vehicles - from 1940s (or before); with their occupants ideally dressing in period clothing
- Model displays of aircraft, ships & vehicles from the period
- Homefront re-enactment people/groups, dressed in period clothing, including those with vehicles & equipment as part of a display
- Cockpits/Aircraft/Aircraft Interior Displays/Engines from the WWII period
- WWII veteran associations or similar groups or those that support these groups
- Special rates for re-enactors and promenaders – FREE if booked in advance (before 9pm on Wednesday 29th September 2021); and £5.00 per person in period clothing on the day
Everyone at the museum is looking forward to two days of nostalgia and commemorations. If you would like to participate as a promenarder you can contact our Events Team by sending an email via this Weblink

Normal museum admission fees will apply. Adults £9.50, Over 65s £8.50, Children £5.00 and Family ticket [2 adults & 3 children] £26.00.

Special rates for re-enactors and promenaders – FREE if booked in advance (before 9pm on Wednesday 29th September 2021); and £5.00 per person in period clothing on the day.

Performances by

Sarah-Jane – 1940s vocalist

Vintage Sale Stalls
Stephen Dring 3D display/sales
John Carpenter – Sales
William Blavin/Bills Bunker – Sale of Uniforms/books/CDs & memorabilia
Robert Adams Sales – models & books
John Baxter – Sales
The Signalman/ Chris Platts - Sales army surplus & military models
Alan Hull – Sales militaria and kits
Dan Cooper – Models/war game supplies
Alyson Linter 'Goodeys' – 1930/40s memorabilia
Harris hair back comb n curls – Vintage hairdresser bric a brac, hats,clothing
Steve & Lorraine Harris – Agri salvage & flowers sales
Visiting Vintage Displays

Mark Blackwell – Display WW2 weapons & equipment
Karen Wilson/Feldjagerkorps 44 – German military police office 1939-46
Airfield Research Group, Jayne Wright – display
ASR & Marine Craft Club – Displays Marine craft models & storyboards
RAF Balderton Memorial Group – Display
Signals & Ciphers – Morse, signals and ciphers equipment display and interactive with the public
Neil & Sue Webster – WLA display
Keith Brenchley – Remote control 1/6 scale Tiger Tank, part built King Tiger & various Tamiya models
Balderton RAFA – Wings Appeal
Mainly Military Models – display
Martin Sibcy – Model display
Lancaster W4270 memorial display
Meteor 12 viewing only (Hangar 2)
Monospar viewing only (Hangar 1) [Saturday only]
Visiting Promenaders

Nick & Janet Hamilton – Promenaders WW2 RAF officer & WAAF or lady
Jo Griffiths +2 – Promenaders
Diane & David Hunt – Promenaders
Philomena & Ivor Knight – Reenactors
Derek Rutter – Promenader – fire guard
Gregg Cawley – Promenaders - RAF 1940s Pilot and partner in period dress with fox fur etc
Glen Patterson & Carolyne Rowe – Promenaders/Dancers
Ray & Wendy Millard – Promenaders/ dancers/ 1940s bicycles
Simon Elmer & Anna Stalmierska – Promenaders – Polish RAF officer with his lady
Theresa Britton – Promenaders
Dan Hyndman – Newark Borough Police Sergeant
Dawn Fenton & Wendy Bryant – Promenaders
Peter & Bill Bolton – Promenaders
John & Carina Carder – Promenaders RCAF Wg Cdr & W/O
Barry Noble – Promenaders Winston Churchill & Clemie
Johanna Partridge – Promenaders American serviceman 40s ladies 40s young gentleman
Christopher Page – Desert Rat & Godfrey from Dad's Army
Martyn Balmont & Hannah Orbell – Promenaders
Tracey & Adrian Sharpe – Promenaders
Tim & Susan Cartwright – Promenaders
Amanda & Steve Holland – The 40s Home Front dance & entertainers promenaders/dancing
Doug & Paula Wood – Promenaders in uniform
Kate Lightfoot & Rose Gray – Promenaders
Steven Blackbourn – Promenaders military policeman & US aircraft mech
Mary & Keith Armstrong – Promenaders
Peter & Emma Hinks + 4 children – Promenaders
Alan & Liz Hutchins – Promenaders
Derek & Christine Mason – Promenaders; RAF Wing Co & civilian lady, dancing
Peter & Heather Machin – Promenaders RAF/1940's costume
Sandra Savage & Paul Lifsey – Promenaders
Mr & Mrs Casswell – Promenaders RAF ground crew & civilian wife
Kenneth & Carol Myers – Promenaders military man and civilian woman
Richard Calladine & Rebecca Bolton Promenaders
Jennifer Theobald Rushby +3 – Promenaders
Michael Gilbert – Promenaders Civilians at War Society
Michael Hill & Vicki Ranyard – War correspondent & lady
Mark Tina & Kelly Hellicar – Promenaders
Charlie Benton & Frances Shearan – Promenaders
Grahame Barrass – Promenader RAF pilot
Jan Barlow & Steve Frost – Promenaders
Outdoor Displays
Lincolnshire Re-enactment Display Group – Lincolnshire Regiment during WW2 – equipment & weapons display – may include Dodge WC (if serviceable!) [Sunday Only]
Andrew Rudge & Alania Stredder – Willys Jeep + Bantam Trailer - OAS414 US War Correspondent
Paul Grimley/Victoria Cross Trust – Weapons/Vehicle/Land Army Display c/w Tractor & plough Mel Voce/Notts & Derby LHG – Selection of WW2 British Airborne and Womens ATS equipment with a Willy`s jeep & Dingo scout car
Walks of Life Museum – Hand carts & Field to Fork WW2 rations display
David Smart – 1936 MGA TA
John Walker – 1938 MG saloon
Fire by Order – Home front display – WLA & Home Guard + working Shire horse
Paul Eastwood – Matchless Motorbike & County Policeman [Sunday only]
David Moore NFS/AFS Vehicles Group – Wartime fire engine & fire pump WVS Mobile canteen display, small equipment display on tables inside.
Robert Godfrey/World War Forces Network – BSA motorbike & Wellbike Excelsior
Tony White/RN Beachhead Commandos – RN Beachead Commando display
John Fowell – 1949 MG Y type; MOU 488 & Reenactors
Roger Stuchbury – 1947 Rover P2; ANH 295
Dove photo opportunity [Saturday only]
Matthew Moore – 1943 Willys MB Jeep to British Airborne spec reg: VXS 969

N.B. the above listing only features groups or individuals that have sent through a completed booking form