Great News – Museum Shop Has Re-Opened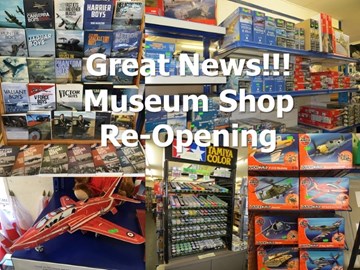 Throughout the Covid-19 lockdown we have been trying to work out ways of selling aviation kits and books, with the aim of getting the Museum Shop back towards some sort of normal operation.
Recent announcements regarding the non-essential retail trading guidelines mean that we were able to re-open the Museum Shop on Tuesday 16th June 2020.
We have completed a set of Covid-Secure Risk Assessments for the Shop and we are operating on the following basis:
The Shop is open everyday
Opening times are 10am to 4pm
Only one shopper is allowed into the Shop at a time & there is a contact number by the entrance for people to use to gain access (please bring your phones)
Social distancing measures are in place and Covid-Secure procedures are being used
Contactless payments are preferred, but credit cards, cheques and cash are accepted
Shoppers are encouraged to collect kits and books off the displays themselves; but they are discouraged from opening kits and spending time 'reading' the books
Normal access routes to the Shop are in operation i.e. off Drove Lane via the entrance next to the Motor Auction Site
A queuing area has been set up outside in the car parking area; N.B. there is

NO

access to the wider museum site, display buildings or café
To help people to decide whether or not to come and shop, we have taken some photographs of the key sections of the Museum Shop to try and provide an idea of what is in stock. If you would like to receive copies of these via email, then please send us an EMAIL USING THIS LINK
These main product areas are listed as:
Italeri Aircraft Kits

Revell Aircraft Kits
Airfix Aircraft Kits
Airfix Quick-Builds
Tamiya Aircraft Kits
Trumpeter Aircraft Kits
Assorted Aviation Books
Pre-owned Aviation Books
We will also send you a note explaining how you can check for stock availability and to request a price for the kit/kits. Obviously as we start operating the stock availability will change and we cannot be held responsible if an item is no longer available when you arrive.

We appreciate that this is not a perfect solution, but it does act as a step towards normal opening and also it gives us a chance to fully evaluate how social distancing measures might need to be implemented in the Museum Shop when we try to open normally.
Please don't forget the #CovidCode20 offer that is detailed on our website. This 5% discount offer will apply for any purchase made in the Shop, but we are currently unable to offer the higher 10% discount offer. N.B. #CovidCode20 offer cannot be used in conjunction with the usual museum member discounts.
We hope to see you in the coming weeks here at our #AVgeekUtopia