Day / Night Photo Shoot – Market Research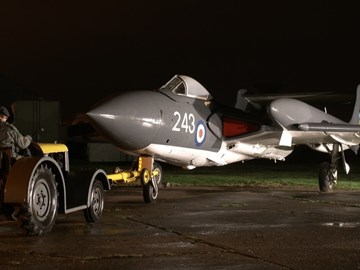 The museum trustees have decided to investigate the possibility of organising further Day / Night Shoot events in 2019.

The museum is currently investigating potential dates in February/March 2019 and October 2019. The aim would be to fix dates quite quickly and to try not to clash with other aviation Night Shoots.

We have not hosted such an event for a number of years, so if we undertake an event it will be organised by the museum itself and would involve our
'home-grown' re-enactors; we are currently assessing what aircraft to utilise and what fee to charge.

Our previous mailings lists are obviously out of date and pre-GDPR so we will need to rebuild these before we proceed. If you might be interested in
participating, and would like to receive details from us please respond by using this weblink

At the moment airframes being considered include: Buccaneer, Cessna 310, Sea Vixen (each due to be in new markings), Shackleton (external & internal photo opportunities), Puma & Chinook (internal photo opportunities).

#NAMphotoShoot19

We will aim to acknowledge the receipt to your emails within 24 hours!