Spring 2019 Day/Night Photo Shoot Feedback
Updated 22.03.19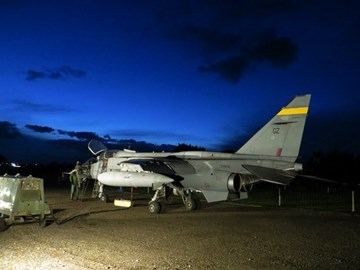 Since our Spring 2019 Day/Night Photo Shoot on Saturday 9th March 2019, we have received some wonderful feedback from the participating photographers. This has come via email and our social media channels and we are so proud that the efforts of our volunteers, staff and other photographers have been recognised; we thought that it would be good to share those comments.

We are still evaluating the event ourselves and in due course we will decide whether or not to host another event sometime later this year. People can still add their names to our Photo Shoot mailing list by contacting us via this Email Link

Advanced notifications of any future events will be notified to the people on the mailing list, before they are added to our website or announced on social media.

JW: "Just to say a big thank you to everyone today who organised and helped at the photo Shoot. Jacket potato was brill.
Brilliant day really enjoyed it, other photographers were so polite and nice.
Nice to meet you and chat with you, your Puma guide was superb as was the Shackleton pilot."

BN: "Hi Howard, this is just a quick email to say a big thank you to all involved with a very well organised Day/Night Photo Shoot. My friend and I thoroughly enjoyed it and you should all be very proud of yourselves - We wouldn't hesitate to come along to another. Kind Regards"

JA: "Just a short note to thank all the volunteers involved on the night. It was a great opportunity to photograph a number of the aircraft in settings I don't normally get to see. I know it was a lot of work for you all but hopefully the museums funds were boosted and I certainly have some great shots. Once again, thanks to all"

IB: "Great day and night shoot. Thanks for the opportunity and hospitality."

CS: "A huge thank you for last night. The event was one of the best I've been to. Hope there are more in the pipeline."

KC: "It was great fun, and very well organised - both in advance and on the night"

BG: "Absolutely fantastic day and evening! The staff/volunteers where awesome some really interesting people and dogs thank you all #namnightshoot19"

CL: "Massive thanks to all of the staff and volunteers @NewarkAirMus for organising and hosting a brilliant night at the museum last night. #NAMphotoShoot19"

WB: "Enjoyed yesterday's photo shoot immensely."

IH: "Just a quick note to thank you for a most enjoyable day and evening at Newark Air Museum on Saturday. A great night shoot, well organised and not too crowded with just the right amount of people and varying times for each aircraft meant not everybody was in the same place at the same time. I hope you and the museum thought it worthwhile doing.
It was a 380 mile round trip for me which I did over the two days of the weekend.
I'll send you a link to my night pictures when I have them edited.
Thanks again."
SC: "Thanks to Mick and all participants for organising a great event. I thoroughly enjoyed it even though my Tripod head snapped off before the evening shoot (yes I was the guy lying on the ground for most of the event with a makeshift tripod - water bottle) and my bike decided to give me problems on the way home."


MM: "A very enjoyable photoshoot last night, well done to all...."

PJ: "Great evening, thank you to everyone involved at Newark"

DK: "Bravo. Very well organised night shoot. Enjoyed that"

SW: "Excellent job by all at NAM, really top job guys many thanks to you all for this evening, most appreciated"


JY: "Just wanted to say a very big thank you to everyone involved in setting up the night shoot. Everything was run very professionally and it was a thoroughly enjoyable event.
Will look forward to visiting again and attending more events in the future.
Regards"


PP:
"Just to let you know I really enjoyed the event and managed to get some great photographs. It was very well organised.I have attached three photographs that may be of interest to the museum. Not many people appeared to be taking much interest in the Hastings but they do not know what they missed."
PS: "On 9/3/19 we returned to Newark Air Museum in Nottinghamshire to photograph a selection of their aircraft at night. The event, organised by the Museum itself to... directly boost its funds, was very professionally run and a highly enjoyable afternoon and evening spent in great company. Huge thanks to everyone involved for arranging it and all their hard work during the day.
We arrived during the afternoon when there was time to reacquaint ourselves with some of the aircraft, displayed both outside and within the two hangars. We also took the opportunity to climb into the cockpit of their Avro Vulcan, along with a knowledgeable guide, which was a fascinating experience ... how could such a huge aircraft have such a small cockpit for the five aircrew and such limited visibility even for the pilots!
A glow in the sky at dusk provided some interesting photographic opportunities and, as darkness fell, the lights came on. Many of the outdoor aircraft were lit during the evening with several (Jaguar, Lightning, Buccaneer and their Cessna 310 newly resplendent in U-3A military colours) being joined by an enthusiastic band of reenactors. Despite it being very cold, not helped by a strong wind and a rain shower, the myriad of photo opportunities kept cameras clicking well into the night."
JY: "A big thank you to everyone involved in organising the recent night shoot. Great atmosphere and lots of great opportunities for images."