2017 Project Update for Project Panini (Mod)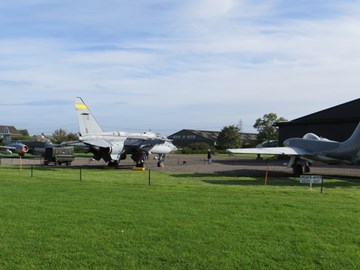 Following a the recent granting of planning permission for the new Modular Café & Toilet facility, the museum trustees are delighted to advise that the contract for the project has been awarded to Avalon Cabins at Colsterworth, Lincs.

As previously advised this new development will take place on the Southfield Site** close to Display Hangar 2; and the accompanying photograph shows the view out of the café seating area onto the museum site (the aircraft pictured will be relocated to new display positions close by).

This high-specification unit will be manufactured off site and then installed at the museum sometime early in 2018.

In advance of the installation of the main units, some ground-works for footings for the building will be completed on the Southfield Site. This work may involve some minor changes being made to how visitors use our Southfield Site. Any such details will be notified via this website and our social media channels / feeds.
As ever our fundraising efforts continue to support this vital museum development project. This includes the collection of the old style pound coins, which can still be donated via the on-site collection boxes at the museum; or left in the Museum Shop. Online contributions can still be made via a Just Giving page for the project by following this link.
Further updates will appear here as any fresh information about the project becomes available.

** The Southfield Site is 12.38 acres of land that the museum purchased in 1995 and is currently home to Display Hangar 2, the RAF Winthorpe Memorial Garden and several museum aircraft.