Thank you for attending our Remembrance Service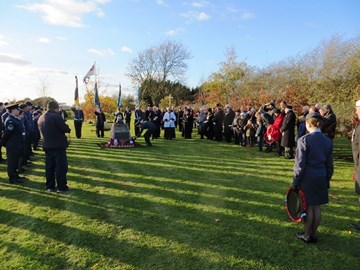 We would like to extend a big thank you to everyone who attended the museum's annual Remembrance Sunday Service this afternoon at the RAF Winthorpe Memorial in our Memorial Garden. We hope that everyone has now recovered from the biting cold wind that blew across the airfield and took the edge off an otherwise nice late autumn afternoon.

The service commemorated all of the service personnel who are remembered on the various memorials and tributes in the Memorial Garden and around the wider museum site.

The service was led by the Reverend Alan Boyd, and we are grateful to the various local civic dignitaries who attended and laid wreathes; plus the representatives of various local service organisations. A special thank you goes out to the ATC Cadets from North Hykeham who were magnificently turned out and were a credit to their officers and families - well done to each and everyone of you.

Addendum 16.12.17 - apologies to Roger Bryan who was missed off the website & from the Dispersal newsletter; Roger played the Last Post & the National Anthem.