Remembrance Service
Thank you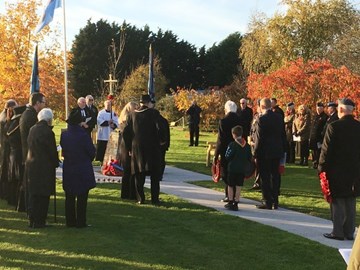 We would like to extend a big thank you to everyone who attended the museum's annual Remembrance Sunday Service on Sunday 14th November 2021, at the RAF Winthorpe Memorial in our Memorial Garden, on a nice late autumn afternoon.
The service commemorated all of the service personnel who are remembered on the various memorials and tributes in the RAF Winthorpe Memorial Garden and around the wider museum site.
The service was led by the Reverend Alan Boyd, and we are grateful to the various local civic dignitaries who attended to lay wreathes; plus the representatives of various local service and youth organisations.
A special thank you goes out to Nigel Bean for making all of the arrangements for the service and to his wife Jude, who along with Nigel put in hours of work to get the area ready for the service.