Revised Opening Arrangements
September 2021 (updated 27.09.21)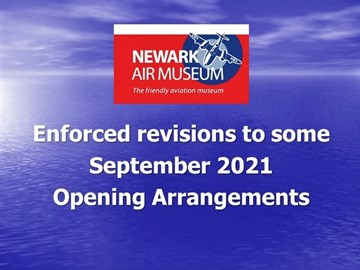 After a busy and hectic set of summer months, staff holiday commitments and sick leave mean that we are having to change some of our opening arrangements during September. We are also now having to manage the possibility that staff members cannot get the the museum due to the challenges of getting fuel for their vehicles.
Some temporary arrangements earlier this month passed off OK and our staff and volunteers stepped up and kept us open; the trustees would like to thank them for their efforts. Also, thanks to our visitors for your patience and understanding.
We will endeavour to keep the museum open but it may mean closing some facilities like the Museum Shop on a temporary basis. On any such days we will have the normal display areas open and a normal service in the Museum Café; however please note that our telephone system will only be accepting recorded messages as the Museum Shop will not be accessible.
At the moment we have no changes, or closures to report but please be aware that further revisions may be necessary later in the month, and these will be notified as and when they are finalised.
We are sorry for the inconvenience that these temporary measures may cause and we hope that they will not spoil your visit.