Shackleton Boys 2 Book Launch
Updated 23.08.19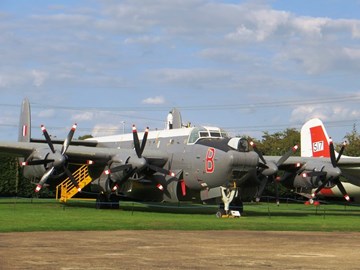 The museum is hosting a two day event to celebrate the launch of the Shackleton Boys 2 book launch, by Grub Street who have published a range of such books featuring different aircraft types and stories from their aircrew

The event will take place on Saturday 31st August & Sunday 1st September 2019 - 10am until 5pm each day (last admission at 4pm), and it will be centred around our Shackleton aircraft that was dismantled and moved to the museum by road in spring 1977. To this day this is still the largest aircraft dismantling project ever undertaken by the museum and its members.

Contributors to the book will be in attendance to sign copies of the book, meet each other and also meet and talk with the museum visitors. Details of the reunion aspect of the event are being co-ordinated via the author & publishers and these participants will be contacted directly.

We hope that there will be a number of visiting displays and exhibits that will add to the maritime reconnaissance nature of the event.

This event is open to the general public & normal museum admission rates apply: Adults £9.00, Over 65s £8.00, Children £4.50 and Family ticket [2 adults & 3 children] £24.00

On both days we will have a flypast by Spitfire aircraft from the Battle of Britain Memorial Flight. Confirmation for these flypasts was received on 09.08.19.


RAF Squadrons represented
8, 37, 38, 42, 120, 201, 203, 204, 205, 206, 210, 224, 269, ASWDU, MARDET, MOTU

Bases represented
Gibraltar
Luqa
Hal Far
Khormaksar
Majunga
Sharjah
Gan
Changi
DF Malan (South African Air Force).