Shackleton Spruce-Up Work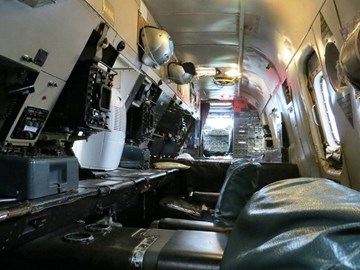 Following the recent completion of the planned external restoration and repainting of Shackleton WR977, some members of the repainting team are now undertaking repainting work on Sea Vixen XJ560 (see Museum Work Gallery); while on WR977 some additional refurbishment work has recently been undertaken and more is underway.

Internally a lighting upgrade has recently been completed on WR977, with a new low voltage power supply mounted in an enclosure above the Blue Silk equipment. A major benefit of this upgrade is that all of the roof lights along the fuselage compartment have been fitted with LED bulbs and are now operational. This provides a much improved environment for visitors when the aircraft is open to the public.

Elsewhere on WR977 a fresh programme of work is underway to refurbish the nose wheel undercarriage bay and also the internal parts of the aircraft's extensive bomb bay. Updates about this new project will also appear in the Museum Work Gallery.