Flexible aircraft displays in the coming months
Updated 10.02.20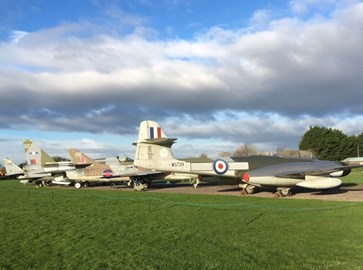 Before Christmas 2019 we announced the impending arrival of Eurofighter Typhoon DA4 at the museum. Work is now well in hand with this project and to accommodate its eventual arrival we have to undertake a variety of aircraft moves here at our Gateway Aviation Site.

Recent visitors will have noticed that four aircraft have already been moved to the western end of our hard-standing area and a new section of hard-standing has also been laid behind the Museum Café.

Following our most recent planning session on Tuesday 28th January we have now identified twenty (20) separate aircraft movements that will need to take place during the coming months. What currently appear to be large open spaces on our Southfield Site have been carefully created to facilitate the moves that we need to make.

We would like to take this opportunity to confirm that these areas are definitely not spaces for any large aircraft like the Fort Paull, Beverley and RAF Marham, Victor that everyone seems to want us to move from other locations. These do not form part of our long-term development plans for both our Southfield and Northfield sites.

These site moves will make your visit feel different and may involve slightly extended walks to view certain aircraft. We apologise for any inconvenience this may cause you, but we hope that you may view this as an opportunity to get different photo opportunities on some of our aircraft.

We would also take this opportunity to apologise for the unfortunate background 'scenery' of the tower cranes on the neighbouring land, which is something that is out of our control and the awkward nature of some of the moves that we have to make.

If possible we will try to provide advanced notice of specific moves but we cannot guarantee this, as some moves will rely on the availability of volunteers, tractor units etc. Overall we hope that these moves will not affect the quality of your visits, but we wanted to make people aware in advance of any possible visit. Once completed these new layouts will contribute towards the reassembly work that will take place on Eurofighter Typhoon DA.4 ZH590, when it arrives here from the IWM Duxford.