Spring 2018 Aeroboot
Decision Made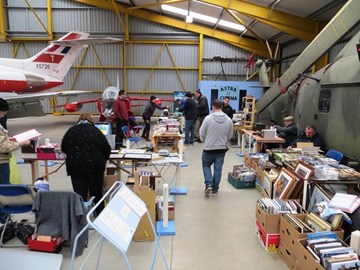 Overnight we have received some questions about the viability of the Indoor Aeroboot that is currently scheduled for Saturday 3rd March 2018; here is an extract of the key points from one of the emails:

"With regard to the unfortunately timed impending snow and blizzard conditions set for the whole of next week coupled with freezing cold temperatures, does the Museum think that it may be a good idea to postpone the event (possibly to a later date?) According to the forecast even if we don't get much snow the freezing temperatures may put both stallholders and customers off attending?"

……… We ourselves are somewhat concerned about the possible travel conditions and looks like we may have to give it a miss. I'm sure a lot of other stallholders will possibly agree? Visitor numbers will certainly be down, lots of older people especially. I don't think you would be disappointing people as I'm sure most would understand."

The museum staff and trustees feel that this does raise some valid points so we have decided to try and gather opinions today, with a view to making a decision on whether or not to cancel the sale.

At the moment (10.40am; 26.02.18) the museum site is open, but we are experiencing frequent snow showers and this may in itself make the museum site difficult to negotiate – the long-term outlook for the rest of this week is more snow and cold temperatures that could make the event on Saturday 3rd March a huge challenge. Not least because of the large distances that many sellers and buyers often travel to support the event – by taking a decision early (we aim to decide by 8pm tonight) we hope to have the maximum time available to let people know.

If we decide to cancel we propose to offer two alternative dates to rearrange the event for; these are Saturday 24 March, or Saturday 14 April (date now selected) and the choice would be based on feedback from stallholders booked in for this Saturday.

You can register your preferred choice by sending an email via this EMAIL LINK

We recognise that this is not an ideal situation to find ourselves in, but we want to make the best decision for everyone involved.

More details will be released as and when they are confirmed.