Aeroboot / Aerojumble 3 July 2021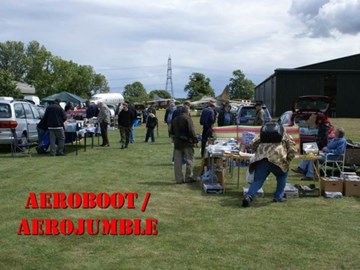 The date for the next Newark Aeroboot / Aerojumble Sale is on Saturday 3rd July 2021.

Spaces were offered to those sellers who had tables booked at the cancelled 2020 sales, and subsequently sellers on our mailing list. We are now offering spaces to other sellers - please note that you must pre-book to secure a space.

The event will be hosted on the south western end of our Southfield Site in a similar location to the events normally hosted during Cockpit-Fest. Admission cost for buyers will be at the reduced rate of £5 per person. To help buyers enter directly into the event quickly it would be helpful if you had the correct cash available when you arrive. You will need to provide track & trace contact details in line with any Covid Guidelines that will be in place at the time, failure to do so will result in you not being admitted.
Toilets will be accessible and we will also have a catering unit on site; car parking for the sale will be close by, on the northern section of grass. The Aeroboot admission ticket will allow buyers admission to the museum, but this will need to be made in accordance with any Covid Guidelines that apply around the whole Museum site.

We expect this next Sale to be a good one and if anyone is interested in taking a space and want to request a booking form, you need to send us an email by using this link

The pass system will be retained for this event and this will include stallholders and their helpers; this is aimed at helping to control how people enter and leave the site during the event.

Please remember that for this Summer event all spaces are outside; you will need to provide your own tables and chairs; and pre-booking is essential as there will be no spaces for people just turning up on the day!

The marked spaces will be 7m x 7m square and in each space you will need to park your vehicle (trailer) & set up your selling space; if you require more than one space you will need to book this in advance as no extra space can be allocated on the day; and we do have a limited number of spaces available.

The sale opening times will be 09.00 to 16.00 hours; these times will be strictly enforced, however based on previous experience some Aeroboot / Aerojumble sellers may be packing up by 14.00 hours so please aim to get there early.