November fun thanks to The National Lottery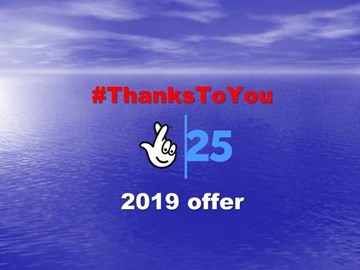 This year is the 25th Birthday of The National Lottery, and we're excited to be a part of the celebrations by joining in the #ThanksToYou campaign, which celebrates the contribution of National Lottery players in supporting good causes over the past 25 years!

On Saturday 23 and Sunday 24 November 2019, we are offering a free admission to the air museum to National Lottery players.

We will be one of many National Lottery-funded visitor attractions across the UK participating and saying 'thanks' to people who have raised money for good causes by buying a lottery ticket.

The idea is simple: any visitor, who presents a National Lottery ticket or Scratchcard on Saturday 23 and Sunday 24 November 2019, will gain free admission to the air museum site, in this special birthday year.

Back in 2003 we received £453,000 from The National Lottery. The money helped to pay for the construction of Aircraft Display Hall 2 on our Southfield Site and this is your chance to come and see the aircraft and helicopters that are now housed in that building for free.

Howard Heeley from the museum said, "Thanks to National Lottery players we were able to get around twenty five aircraft and cockpits displayed under cover, thereby protecting their condition for future generations of visitors to see and enjoy."

Since The National Lottery's first draw took place on 19 November 1994, more than £40 billion has been raised for good causes in the areas of arts, sport, heritage and community – that's £30 million a week making a difference to lives of people and communities throughout the whole of the UK.

Terms and Conditions

1. One National Lottery ticket provides free entry for up to one family of five people to the Newark (Notts & Lincs) Air Museum.

2. All National Lottery games qualify for free entry (including both National Lottery draw-based games and National Lottery Scratchcards). Proof of purchase of a National Lottery game can be either a hard copy ticket or a digital ticket.

3. The offer is valid on is open on Saturday 23 and Sunday 24 November 2019, between 10am and 4pm (last admission to the museum at 3pm)

4. Newark (Notts & Lincs) Air Museum has the right to refuse entry in the unlikely event of the venue reaching capacity, as well as other circumstances outside of its control.

5. Free admission will be given at the point of entry to Newark (Notts & Lincs) Air Museum when visitors arrive with their National Lottery tickets; it does not apply to any aircraft that might be open that weekend.

6. The promoter is Newark (Notts & Lincs) Air Museum.

7. In the event of queries on the day, the Shop Manager's decision is final.