Theft from Canberra T17 cockpit WH863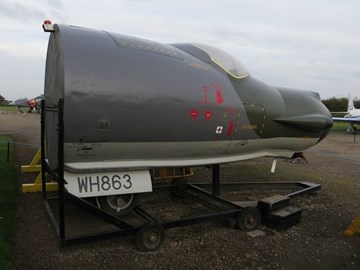 Late on Friday 31st May 2019 the museum curator was advised of the theft of several items from the cockpit of Canberra T17, WH863, which is on loan to the museum.

This theft was notified to the museum by the cockpit owner Aaron Braid, who was visiting the cockpit following its recent repaint by museum volunteers. The following text was then posted by Aaron, on the EE Canberra Appreciation Group Facebook page:

"I don't often post much, but this is a sad day for me.
Today I went to the Newark Air Museum, to check on my Canberra T17 (WH863) and I'm gutted to say some low... life has stolen several items out of the cockpit!

HF Control Unit.
VHF Transmitter/Receiver.
Adapter plate for the VHF.
Pee pot and rubber bladder (brand new).

I have the serial numbers of the HF and VHF stuff and they are 100% unique as I had them modified to work in the cockpit.
These aren't little items someone could pop in their pocket, so whoever stole them planned it in advance.
All I will say is IF I FIND THEM and I WILL get the police involved.
If anyone can help me recover these items I'd be very grateful.
If they happen to "turn up!" I'll consider the matter closed."


Obviously the museum will now be reviewing cockpit access records and also its security procedures in much greater detail, which may result in restricted cockpit access to some aircraft and cockpits; more controlled access to the site during special events; wider use of SmartWater; etc.

We are also trying to narrow down the timeframe during which the theft is likely to have occurred, with an aim of being able to check the various CCTV systems that operate around the site; however this is quite an onerous task.

The museum has been in further dialogue with Aaron and one disappointing aspect of this incident is summed up by the following comment from him:

"……whoever stole the item had obviously planned it carefully as tools were needed and getting the VHF unit out of the cockpit, though it's not big, would have been tricky.!"

At the moment we do not plan to release the serial numbers of the stolen units, but if anyone has any information we would ask that you contact the museum by telephoning 01636 707170.

Sadly this latest incident is not the first time that Canberra T17, WH863 has been accessed without permission and the previous incident will now also be reviewed, with some fresh eyes and thoughts!

Finally for now the museum trustees would like to place on record their apologies to Aaron Braid for the loss of these items, whilst the cockpit was in its care; it is quite rare for such incidents to occur but patterns may emerge in the coming days and weeks!