Thank you everyone
Tribute to the V-Force 2018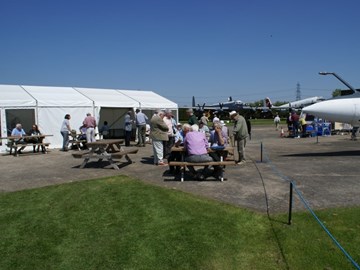 Many thanks to those former V-Force personnel that visited the museum for the reunion gathering today; they also go out to the people and groups for providing a host of visiting displays; to the museum volunteers for opening up the aircraft; car parking operations; the museum organisers; our visitors; the #twitterVforce people & the cookie baker; and last but by no means least the museum staff (and volunteers) for their sterling hard work in the café, museum shop and site cleaning/tidying and car parking.

As anticipated from the pre-event bookings, around seventy-five (75) former V-Force personnel attended the event today. Many V-Force Squadrons, bases and aircraft types were represented at the reunion, whilst in the museum's display hangar 2 hosted a wealth of visiting displays.

A special thank you goes out to our four speakers today, who gave some interesting insights into the V-Force and its operations; during four well attended talks in the Dambusters Hut.

As ever the museum's own V-Force veteran, the famous Avro Vulcan bomber XM594 proved to be a highlight for the visitor, along off with an evocative Dakota flypast by the BBMF early in the morning.

Addendum 23.05.18

We have now taken the decision that we will be hosting a #NAMtributeToVforce2020 event in 2 years' time; but it may be in a slightly different format!