Viggen Paint Refreshment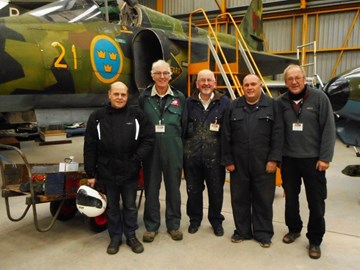 Following the initial airframe assessment on the Saab Viggen maritime reconnaissance / strike fighter that is displayed in Hangar 2 at the museum; a Conservation Plan was established for the aircraft and preparation work was started.

The preparation phase has been completed in ten (10) working days, with a team of five (5) museum volunteers. All four (4) topcoat colours have been rubbed down and prepared for painting, and re-marked with white chalk.

As part of the preparation process a large number of areas of bare aircraft skin were revealed, and these have been coated with Light Grey Etch Primer. Matt topcoat will be applied on the next working days in 2018.

Small batches of matched paint have been purchased and the intention is to carry out some test application in small areas to assess coverage and colour match before we all areas are painted. When we have defined the BS paint references we will post details on here.

The Viggen Valet photo gallery has also been updated; along with our Twitter timeline #ViggenValet.

The 'Viggen Valet Team' pictured from left to right are: Paul Sargisson, David Smith, Alan Boyd, Martin Sibcy and Mick Coombes.