External Vulcan Refurbishment
Update 17.06.19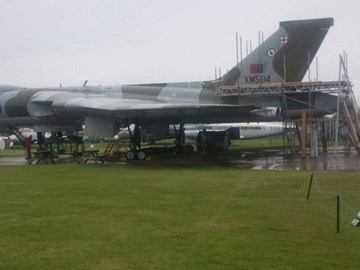 Status Update 17.06.19 - The installation of the scaffolding by the tail of XM594 has been completed and some access underneath the front part of the Vulcan is now possible again. The situation with regards to access to the cockpit has been complicated even further by water ingress into the cockpit area during the recent heavy rain. This has been contained and steps are in hand to dry this out and provide a fix to the situation. Providing it stays dry, public access may still be possible, but again we always recommend that you check in advance.

In early June we will be embarking on another ambitious restoration and repainting project, this time on Avro Vulcan XM594. This work will be carried out with major support of the aircraft's owners, the Lincolnshire's Lancaster Association. (Photo Credit: Nigel Bean)

As with similar repainting work on the Avro Shackleton, a scaffolding work platform will be used and this will be installed around the tail of the Vulcan. This will allow the de-corroding, rubbing down and repainting of the fin and rudder to be carried out in a safe and efficient manner. It is anticipated that some panel fabrication work may also take place in situ, with work being carried out by a team of museum volunteers.

Whilst the scaffolding is in place investigation work will also take place into the condition of the spine panels on the centre section of the upper fuselage. The aim of this investigation is to assess the scope of any future restoration work that is required on this part of the airframe.

We anticipate that the scaffolding structure will be in place throughout the summer and whilst not being photogenic it will help with the long-term restoration of the aircraft.

Avro Vulcan XM594 was flown to the former RAF Winthorpe airfield from RAF Waddington on Monday 7th February 1983. At the time XM594 was the only Vulcan aircraft disposed of by the RAF that was flown into a non-licensed airfield.