WR977 Painting Team Appeal – 2016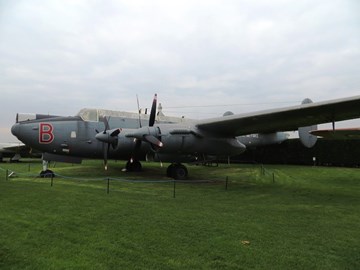 This project has now started with work being undertaken on the aircraft. This means that it is not suitable for photography and museum volunteers will no longer be hosting open cockpit sessions on the Shackleton.

How you still might be able to help

This is one of the most ambitious repainting projects that we have ever undertaken.
With the support of the aircraft's owners, the Lincolnshire's Lancaster Association the museum is repainting the Avro Shackleton, WR977. Unlike previous repainting work on museum aircraft, we have installed scaffolding work platforms around the aircraft. This allows the de-corroding, rubbing down and repainting to be carried out is a safe and efficient manner.
To minimise the length of time that the scaffolding is on hire, we have teams of volunteers working on the project as and when the weather allows, seven days a week.
We already have teams working on WR977, but we are keen to attract new volunteers who are prepared to commit time and effort to the project on a regular basis; this does not involve a cost.
You can still get involved by joining one of the teams that will be able to work on the aircraft.
For any new workers we will provide some basic site safety guidelines for working at the museum, as is normally provided as part of the museum's Induction Process. Offers of assistance by non-members is being encouraged, and any such volunteers will be treated as day-members.
Initially much of the work will involve paint removal and rubbing down, which is not particularly glamorous and is hard work. To emphasis the type of work involved, we typically find that every hour of painting requires five hours of surface de-corrosion / preparation. That said as the project proceeds you will see WR977 emerging with an impressive new coat of paint that will help protect its long-term future.
If you are interested in joining the WR977 Painting Team in 2016, please contact us via email using this link
To help us plan the work it would be really helpful if you could give us some indication of what days you might be able to help; and at the moment we are looking for some cover at the weekend.
We look forward to hearing from you and for you wanting to get involved in this challenging project. We will aim to respond to your emails within 24 hours.
Follow this effort on Twitter #WR977PaintingTeam