Water Supply Problems
Updated 30.07.22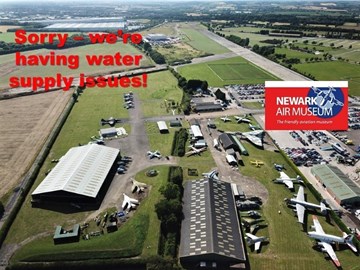 Update 30.07.22 - sadly we've encountered water supply issue again this weekend, which we think might be related to a large event on the Newark Showground. We would like to apologise to our visitors for any inconvenience that the reduced pressure and occasional lack of water may have caused - we are doing our bets to work with external agencies to try and resolve the issues!
We would like to apologies to our Cockpit-Fest 22 visitors for issues that we encountered with low water pressure on site during last weekend's event.
Subsequent investigations suggest that recent changes made by Severn Trent Water on nearby building developments in the area are the most likely cause of this issue; which seem likely to persist.
If these changes cannot be revised they will have a significant impact on our ability to continue our special events programme, with the inevitable loss of revenue from us of having to cancel such events in the future.
This registered charity now has to pick up the cost of repairing drinks machines that were potentially damaged by the significant drop in water pressure that we encountered on 25th & 26th June. In hindsight at a similar event earlier in the year encountered similar issues, where we struggled to replenish the water into the toilet cisterns. This not only affected the visitor's ability to flush them adequately; but also impacted on us ensuring that our on-site Waste Treatment Plant has an adequate supply of water to function properly!
We will now be trying to take up this challenging issue in support of our landlord, with Severn Trent, the District Council and our local MP.