We Are On Weather Watch Again
Updated 16.02.20 (evening)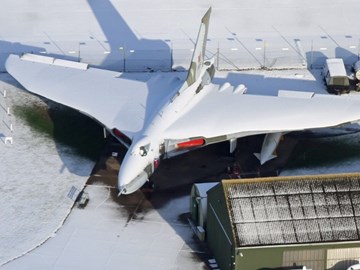 Another brief update again this evening (16.02.20) to say another special thank you to the staff and volunteers who opened up today; looking after a steady flow of visitors and shoppers. We seem to have escaped the worst of Storm Dennis and whilst it was not the greatest of starts to the Half-Term Holiday week, those who visited this weekend seemed to have enjoyed their visits.

We will continue to monitor the situation overnight; with the intention of opening again as normal on Monday 17th February. As with the weekend opening we will see how the weather evolves and if for any reason the weather conditions make the site too dangerous, we do reserve the right to close for everyone's safety.

We had hoped to have a reasonable Open Cockpits offer this Half Term Holiday week, but at this time we cannot make too many promises due to the weather conditions and flooding around the East Midlands. Many staff members and volunteers travel significant distances to get to the museum site and these local conditions have affected their ability to travel to and from our Gateway Aviation Site.
We plan to monitor the situation this coming week and will post further updates with regard to opening again as appropriate. However, if you plan to visit the museum we suggest that you call 01636 707170 to check that we are open, you can also check our Twitter timeline for updates.
Normal winter opening times are 10am to 4pm throughout the autumn and winter. Last admission to the museum itself is 3pm and last admission to the Museum Shop for shoppers is 3.40pm.
N.B. the photograph used with this news item is from the archive and does not reflect current conditions