Weeping Lancaster 2022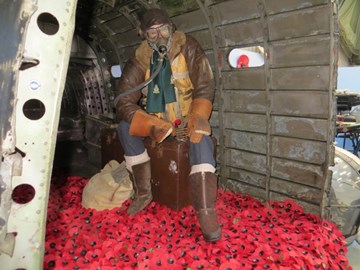 An enhanced commemoration has again been added to the artefact display area known as Lancaster Corner in Hangar 1 at the museum.

The evocative 'Weeping Lancaster' stream of poppies has been re-laid on to the floor of the Lancaster fuselage section from IX(B) Squadron Lancaster W4964 WS-J that was donated to our museum in 1974.

This year's commemoration comprises of more than one thousand (1,000) poppies that have been reclaimed from wreaths laid in the Memorial Garden at the museum during recent years. These complement the air gunner figure and will form a fitting reminder of the aircrew that trained at RAF Winthorpe and with 1661 HCU during World War II.

The inspiration for the #WeepingLancaster commemoration came from the various poppy displays around the country; and as on the previous occasion they were installed in the Lancaster fuselage section by Nigel & Jude Bean.

The fuselage section is of major significance to the history of Bomber Command as it came from Lancaster W4964, that flew 106 Ops and its 100th Op was a 'Tallboy Mission' on the Tirpitz battleship in Alten Fjord, Norway.

W4964 carried the nose art of the 'Johnnie Walker' whiskey company and the exhibit still wears its original wartime paintwork. Its ends had been boarded up and it had been used as a garden shed before being donated to the museum in 1974.