Grant award for museum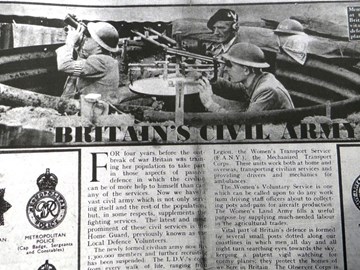 We are pleased to report that we have just received a grant of £3,000 from Aviation Heritage Lincolnshire's (AHL) Museum and Schools Programme funded by the Department of Education via the Arts Council England that will be used to recreate a World War II Royal Observer Corps (ROC) Post on the museum's Southfield Site. The ROC Post will be used during education visits to the museum and during special events; also the role of the ROC will be explained using a new set of interpretation panels.

The museum has been an active partner with AHL since its inception and regularly hosts education visits for initiatives such as the Big Draw and their Creative Writing projects. These latest grant funds come from AHL's, Arts Council England (ACE) project fund and the museum trustees are grateful to MDEM for their grant support.

The museum's own roots go back to the Cold War era ROC, which are depicted in diorama displays in Display Hangar 1. Planning work was already underway to determine how best to represent the ROC's wartime role and this grant has given that work a fresh impetus. The ROC Post, once completed will also enable the museum to display a number of hitherto unseen objects from its archive in accurate surroundings.

It is anticipated that the construction work for the ROC Post will reuse topsoil that is removed during the creation of the base for the new Café & toilet facility that is being installed close by. Further updates will appear here as each phase of design work is undertaken.


** The accompanying photograph is not meant to accurately reflect the design chosen for this project.