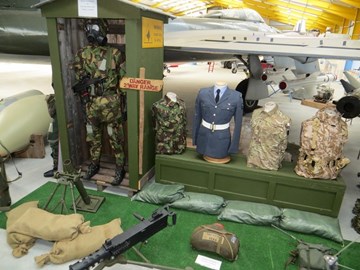 Part of our remit is the representation of local aviation history and one facet of this diverse topic is featured in a display area behind the Gnat and Dominie in the western end of Hangar 2, which features the Royal Air Force Regiment (RAF Regt.).
Just down the A1 on the outskirts of Grantham, Alma House and Belton House are noted for their proud connections to the RAF Regt., which is a unit with its origins in Iraq during the 1920s and the formation of No 1 Armoured Car Company.
At the outbreak of World War II the RAF was responsible for its own airfield defence and security. However the risk of invasion saw around 14,000 troops deployed around the UK to help defend the airfields. The need for a specialised airfield defence force was recognised and training commenced at a base at Filey, North Yorkshire.
During autumn 1941 the Air Ministry requisitioned Alma House and established this as the Headquarters for this new RAF unit, and the first training sessions took place in the grounds of the house – RAF Alma Park.
The RAF Regt. was officially formed by Royal Warrant on 1st February 1942, but the expanding unit outgrew the space at Alma Park and moved to nearby Belton House, which became known as RAF Belton Park. It is this second location that is widely accepted as being the first Depot for the RAF Regt.
The RAF Regt. evolved quickly and soon relieved the Army on airfield security duties. Eventually the wartime RAF Regt. adopted the two thousand series for its squadron numbers, ranging from 2701 to 2850. The Regiment grew to a strength of 80,000 men with 280 squadrons of 185 men; of which over 45 were based in the local at one time or another. Some reports talk of RAF Regt. personnel being billeted at RAF Winthorpe and across the Newark area
At the end of the war the decision was made to retain the RAF Regt. as part of the RAF. The Depot moved from RAF Belton Park to RAF Catterick, North Yorkshire in 1946.

Sometimes during our special event days some museum members display part of the collection out and about on the site – look out for them if you are visiting with us.