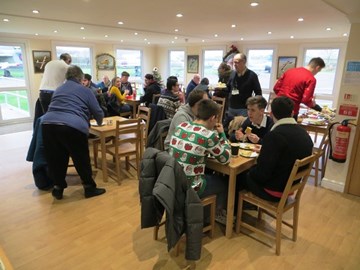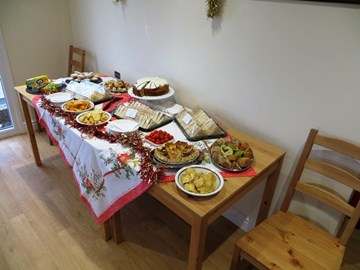 19.12.18 - Please be aware: We are now quite well established in the new café facility, which is out on the Southfield Site close to Hangar 2 and a number of our fast jet aircraft. We are enjoying operating from this larger purpose built facility and we hope that you will spending time with us over there when you visit.

Over the winter months we are stepping up our efforts on providing improved paths around the site and across to the café, which may take a few weeks to sort out; but once again we hope that you will be patient with us.

When you visit we hope that you will find time to pause for a break in our Café. You can choose from a selection of hot and cold drinks, sandwiches, toasties, cakes, crisps and soup.

Why not try our Toasties & Paninis described by some as being "legendary"? All are reasonably priced and are normally prepared to order.

Don't forget that if you do your admission as a GIFT AID VISIT we'll give you a voucher to spend in the café!

Please note that the café seats 45. There are picnic tables provided outside, but if it looks like bad weather or your party is large, please let us know and we will make alternative arrangements. Sweets and ice creams are on sale in the Museum Shop.

The Café can cater for groups but please book in advance. If you are making a group booking and you wish to use the café please indicate on the Group Booking Form, as this will help with staffing arrangements and the stocking of fresh provisions. A menu can be provided to help with this decision.

With an advanced booking we can also provide buffets for groups / functions, menus and requirements can be discussed with Café Manager and typical small buffet is shown in the accompanying picture.