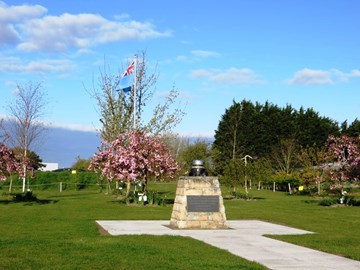 The roots of the Newark Air Museum Memorial Garden were established in the late 1990s thanks to the efforts of our former Archivist, David Collins. His guidance enabled the museum to raise a permanent memorial to the personnel that served with 1661 HCU (Heavy Conversion Unit) and at RAF Winthorpe on land that the museum owns and that we call the Southfield Site.

The proud tradition established by David has been nurtured by our current Groundsman and his wife, who now lovingly tend this special part of the Southfield Site.

For the purpose of this listing on the website we will merely list the memorials, trees and commemorative plaques that are located in the Memorial Garden. The aim of this webpage is to encourage you to visit this part of the museum for yourself and while there to contemplate the various people, locations and events that are commemorated there.

The Memorial Garden can be accessed by following the path between the Shop and Small Object Display Hall round onto the Southfield Site. The route is signposted and is marked on the site plan.

The central RAF Winthorpe / 1661 HCU memorial was dedicated on 24.09.00 and features a propeller hub of Stirling EF186, from 1661 HCU. This aircraft crashed on 04.12.44 near Grantham, while on a training flight from RAF Winthorpe. The nine flowering cherry trees commemorate the nine airmen that were killed in the crash:

F/O Gordon Roch Campbell (RAAF), 25 years old
Flt Sgt Derrick John Standring, 21 years old
Sgt William Ley Howarth
Sgt Leslie George Diggins, 20 years old
Sgt Eric William Heaton, 21 years old
Sergeant Alma Louis Terry, 21 years old
Sgt Anthony Winn, 19 years old
Sgt Bernard Stowe, 19 years old
Sgt Kevin Cyril Glinz (RCAF), 29 years old

The other commemorations in the Memorial Garden are listed in order from the left hand side, starting at the western edge of the garden.
Nigel & Jude Bean – commemorative tree

F/Sgt William "Bill" White RAF Police

Kathy Smith – Museum Trustee

RAF Balderton / USAAF 482 – tree presented by Adrian Adkin & Howard Heeley

RAF Police Dog Handlers, Kennel Maids & Service Dogs - commemorative sculpture funded by friends and family members of former dog handlers.

Terry McHaffie MBE – 1/7/30 to 28/5/92 Chief Training Advisor (Dogs) RAF Police

W/O Gordon Ingamells – Pilot No 4 Delivery Flight

David G Westacott – Feb 1937 to May 2013 a founding member of Newark Air Museum

P/O the Reverend Richard Inge & P/O Robert Lanchester – Avro Tutor crash Langford Moor

Clive Joseph Gilmore – Civilian Instructor RAF Police Dog School

Cpl John Charles Beaston – RAF Police QPD, serving in Belize

Griffin Centenary piece (RAFP 1918 – 2018) – presented by Nigel & Jude Bean; Hazel Beaston, Mike Hall and Brian Hughes
Bench (east) – F/Sgt Mick Mandley
Bench (west) - Corporal Ralph Major
Air Dog Rusty – presented by Nigel & Jude Bean
RAF Police Dog Handlers & their dogs; the crew and local villagers – lost in Sutton Wick Beverley crash 05.03.57
Servicemen & women serving at RAF Swinderby – 1947 to 1955
619 Squadron members who trained with 1661 HCU at RAF Winthorpe
Polish Air Force personnel who served at RAF Winthorpe
Crew of Lancaster ME846 who trained at RAF Winthorpe spring 1944
Flt Lt T O Lewis and Flt Lt G E Richards – Chipmunk crash at Winthorpe 29.07.75

Sgt Ronald Hagger – Lancaster Air Gunner

Floral planting on the memorial mound

Ted Robbins ex – 106 Sqn & 1661 HCU; 'A true pilot's pilot, a wonderful fellow and friend'

Contributions towards the upkeep of the Memorial Garden and museum grounds can be made by following this link to a Just Giving Page

Various additional memorials / displays can be found by exploring the museum site and displays. These include items relating to the Polish Air Force and their squadrons which operated from the airfield.

In the Lancaster Corner display area of Hangar 1 is a commemorative plaque in memory of Wg Cdr Guy Gibson VC and Sqn Ldr Jim Warwick DFC. They were killed in September 1944 when their Mosquito aircraft crashed in The Netherlands. Close by is an extensive display that commemorates a 1661 HCU crew that trained together at RAF Winthorpe in March 1944. They flew operationally with 619 Squadron and their aircraft ME846 was lost over northern Belgium in June 1944.

A plaque commemorating a World War I airman, Lt Pierce is now located in the Exhibition Hall. The Sutton Wick Beverley crash is also commemorated at the museum with a tree; bench; and a plaque in Hangar 2.