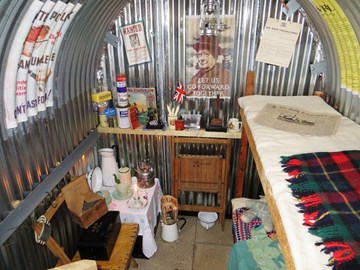 School Trips & Education Visits

Much of our education offer is based around ideas developed in conjunction and support from the Museums, Libraries and Archives organisation, MLA East Midlands; back in 2006.

In 2012 this was further enhanced when the museum was invited to join a new education programme, which was originally scheduled to run for three years under the guidance of Aviation Heritage Lincolnshire (AHL). In the end this programme, which was funded by annual grants from Arts Council England (ACE) ran for seven years and we became a valued member of the partnership.

Over the years, along with the other sites we have been allocated grant funding to purchase some support items for the project. This included major grants to fund the development of the following areas for the World War II / Evacuation topics:
- Anderson Shelter and Victory Garden
- World War II era Royal Observer Corps (ROC) Post
We have also received grant support for participation in:
- The Big Draw Campaign
- Creative Writing project based around Heroes & Superheroes
Our involvement in these various projects represented a major recognition for what the museum has to offer and the museum trustees are really pleased to have been an active participant in the project.

We are also very proud of the high number of repeat educational visits that we receive from schools across, Nottinghamshire, Lincolnshire, Leicestershire and South Yorkshire.

The existing facilitated museum education activities are broadly focused around:
- The History based World War II / Evacuation offer that centres on a schoolboy who was evacuated from Sheffield to nearby Balderton, in September 1939.
- The Science based Principles of Flight activity that explores the forces and simple structure that enable planes to fly.
- The broader topic of aircraft and helicopters as a method of transportation
We pride ourselves on being able to adapt the education sessions to specific needs of individual school requirements, such individual specialisations have included:
- World War I aviation in Nottinghamshire & Lincolnshire
- The Battle of Britain
- Early aviation through to space travel
- Aviation transport
- Wartime aviation around Newark with a Polish focus (for Polish Saturday School visits)
We offer both self-guided and facilitated visits to the museum. The facilitated visits typically take place in stimulating environments like our Dambusters Hut or in the middle of Hangar 2 amongst some of our larger aircraft; these normally get the young people a chance to go inside one of our aircraft or helicopters
You can request a copy of the school visit booking form via THIS EMAIL LINK

During busy periods we do get booked up quite early so don't hesitate and send us your enquiry today!
If in you are in any doubt about what we can offer, why not telephone us on 01636 707170 to discuss your requirements in more detail?
Cubs & Scouts
We can also provide Guided Tours, support material and worksheets for the
following Cub & Scout Activities:
- Cub Scout - Air Activities badge
- Scout Activity badges
- Aeronautics, Air Researcher, Air Spotter, Aviation Skills [Basic & Advanced]
We do our best to provide a great aviation experience for all age groups and have an orienteering activity around the museum site & exhibits.

In addition we have several activities for visiting Air Training Corp (ATC) Squadrons and we are often asked to host sessions for the annual Aerospace Camp that takes place at nearby RAF Syerston.