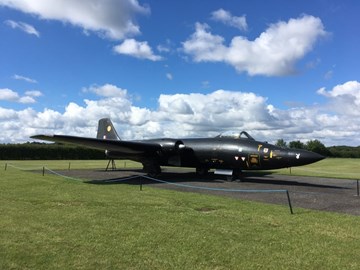 Introduction
Newark Air Museum is located on part of the former World War Two airfield of Winthorpe in eastern Nottinghamshire. Our collection of seventy four aircraft and cockpit sections covers the history of aviation. Extensive under cover displays including two aircraft display halls that house more than 45 aircraft and helicopters. The museum displays a diverse collection of aviation artefacts and aero engines. On site there is an excellent Café and an extensive Shop. Each year the museum organises and hosts various Special Event Days.

This Access Statement is for the Newark (Notts & Lincs) Air Museum and the Newark Air Museum Trading Company. The museum is accessible to wheel chair users with level access across the site. Due to former airfield location some aircraft are displayed in grassed locations and some of the larger aircraft that are occasionally open to the public do not have wheelchair access. Given our rural location we do have an active wildlife population and some grassed surfaces can become uneven due to rabbit and mole activity, so we suggest a cautious approach to moving across grassy areas.
Display Hangar 1 – 32 aircraft, helicopters and cockpit sections mainly from the early 1900s through to the 1950s; including the Lancaster Corner display area.

Display Hangar 2 – 18 aircraft and helicopters mainly from the 1950s through to the 2000s; including the Navigation and Training timeline displays.
Engine Display Hall – 30 aero engines.
Small Object Display Hall – aviation artefact and avionic displays.

Archive & Library – research access can be provided by prior arrangement with the museum Curator.
Café – with seating for up to 40 people and using locally sourced products.
Dambusters Room – utilised as an education space, with temporary seating for up to 50 people.

Museum Shop – operated by the Museum Trading Company selling aviation kits, books, DVDs and souvenirs

Pre-Arrival
Making contact:
Museum telephone: +44 (0)1636 707170
Curator telephone: +44 (0)1636 705585
Museum email: enquire@newarkairmuseum.org
Shop email: namtrading@newarkairmuseum.org
Museum website: www.newarkairmuseum.org
A clearly worded leaflet for Newark Air Museum is produced sometime to describing the main facilities, directions to the museum and opening times. The leaflet provides information and pictures illustrating the type of experience that a visitor should expect. It is widely distributed to other attractions, hotels, guest houses, caravan parks and Tourist Information Centres.

An answer phone service is available 24 hours per day.
Up to date information about special events is published on the News Pages of the museum website and this also features regular event updates.
Short term opening issues such as weather related problems are always notified on the New Pages of the museum website; we always recommend people check before they travel.
Visitor mailing lists (email & postal) are used to circulate museum related information and these are maintained in accordance with current Data Protection legislation.
The museum is easy to find from the A1, A46, A17, A1133 roads and the Newark bypass. For people travelling from the A1 and A46 routes we recommend that you follow the A46 signs north towards Lincoln and then take the right turn off the dual carriageway at the A1133 / Drove Lane roundabout – following the brown and white air museum signs.
By Bus - due to unforeseen circumstance the previous bus service has been suspended; you can use the Lincoln bus service and alight at the A1133 roundabout, and then walk along Drove Lane to the museum [approx 1/2 of a mile].

By Rail: The museum is located approximately 2.5 miles from the Newark Castle Station and approximately 1 3⁄4 miles from the Newark Northgate Station. Local taxis are available from the station.

Arrival and Car Parking Facilities
The approach to the museum is along a former wartime airfield taxiway and is shared with a neighbouring motor auction and storage business.
Directly outside the museum there is ample free car and coach parking; with multiple designated disabled user spaces, located next the main Shop entrance.
All of the museum buildings are fully accessible for wheelchair users, with access ramps with appropriate gradients where necessary.
The museum operates its admission policy utilising the Gift Aid donation scheme; from January 1st 2023 admission to the museum will be at the following rates, with the figure in brackets being the Gift Aid donation rate: Adults £10.00 (£11.00) Over 65s and Concessions £9.00 (£9.90) Children £5.50 (£6.05) Family Ticket = 2 Adults + 3 Children £28.00 (£30.80) The Gift Aided donation rate includes a £1.00, 90p or 60p Vouchers to spend in the Museum Café. N.B. Special rates apply for the disabled, students, UB40 holders, serving members of the armed forces, veterans and parties of 15 plus are available on application.
To make a Gift Aid donation you will be asked to confirm that you are a UK taxpayer and that you understand that if you pay less Income Tax and / or Capital Gains Tax in the current tax year than the amount of Gift Aid claimed on all of your donations it is your responsibility to pay any difference. Plus that you understand the charity will reclaim 25p of tax on every £1 that you have given.

Admission to the museum during special events is typically made at the normal admission rates; changes to this policy will be published on the News Pages of the museum website.

Museum Shop and Main Entrance
Everyday except December 24th, 25th & 26th & January 1st
Opening Hours: November to February daily 10am – 4pm hours; March to October daily 10am – 5pm hours (including weekends & Bank Holidays); The last admission time to look round the museum is 60 minutes before the closing time; subject to the number of visitors present on site, the locking up of the main display buildings will commence 30 minutes before the closing time. The museum café will close 30 minutes before closing time with the last admissions into that facility being 45 minutes before closing time. The museum shop will close at the same time as the museum, with last admissions for shoppers into the shop being 20 minutes before closing time.
Access and exit is via ramped wheelchair access with handrails. The main access and exit doors are wide to allow for easy wheelchair access.
The Museum Shop provides your first contact with museum staff and volunteers who will be able to assist you at the start of your visit.
Access to the Museum Shop is free at all times. Public Areas – Display Hangars & Exhibition Displays
The whole centre is accessible to wheelchair users. A wheelchair can be provided at reception on request at busy times we suggest that you pre-request one.
Displays are designed for easy reading.
There is a range of seating and benches located across the site.
The museum does not currently have any induction loop technology on site.
Special tours can be pre-arranged for the visually impaired, which enables greater handling of display objects.
Whenever possible some aircraft are opened by our volunteers. Dates & times are normally advertised on the News Pages of the website. Small additional fees are charged to access each aircraft; please always check before you visit to see which cockpits might be open. Due to the design of these mainly ex-military aircraft not all are accessible to wheelchair users.

In the event of an emergency audible alarms will sound and messages will be broadcast over the loud speaker system. Staff and volunteers will seek out any visitors that require assistance. All emergency exits are clearly signed.
Public Areas - WC's
There are male and female WCs; each with a disabled access cubicle.

Baby changing facilities are available in both toilets.

Hand washing facilities are located in all toilets.

Museum Café
The Cafe is opposite the Museum Shop and is accessed via ramped wheelchair access with handrails.

The café operates on a self-service basis; with a range of sandwiches, cakes, toasties and hot and cold drinks that are prepared fresh to order.
Food is locally sourced where possible.
There are vegetarian options while other dietary requirements can be catered by pre-request.
There are picnic benches available outside and there is a sheltered picnic area to the rear of the building.

Parties can be catered for but these need to be booked in advance.

Museum Shop
This forms the main museum entrance area, it is easily accessible with staff on hand to provide assistance if required.

Items are clearly marked and well lit.

Shoppers ordering facility designed to help you track down specific book titles and illusive plastic kits.

Dambusters Room
Pre-bookable for visiting school and organised groups.

Flexible layout arrangement with folding chairs and tables available.

Access available via large doors as required.
Additional information
There is no smoking within any of the buildings on museum site.

Dogs are permitted on site provided they are well behaved, kept on a short fixed lead and the owner removes any mess created. (Extendable leads no longer permitted on site).

First aid boxes are available in the Museum Shop.

We have a

defibrillator

that is located on the

external

wall of

the

café

.

Contact Information

Newark Air Museum, Drove Lane, Winthorpe, Newark, Notts, NG24 2NY
Telephone: 01636 707170
Fax: 01636 707170
Email: enquire@newarkairmuseum.org
Website: www.newarkairmuseum.org

We welcome your comments and feedback all of which is monitored to help improve individual visitor experiences at the museum and its events.