Aeroboot / Aerojumble thank you!!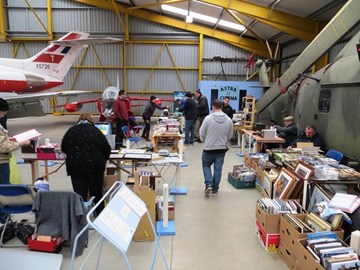 Today's event took place in great weather conditions (warmer than some summer events in the past) and seems to have been a success. We would like to say a special thank you to the stall holders who stayed until the allotted pack up, which hopefully benefits them as much as it did the visitors / buyers.

Special thanks also go to those sellers who took the time to say thank you to the museum staff and volunteers. These kind words are nice to hear and it's good to know that we're appreciated.

An extra big thank you goes out to the museum staff and volunteers who helped to set-up, run and pack-up at the event; to those that helped keep the site clean and functional; helped manage the car parking; the Shop and Café staff and volunteers worked really hard; plus the cockpit openers who were kept quite busy today.

Today's event car parking arrangements seemed to work well and thanks go out to everyone for their patience in adapting new provisions; this will hopefully get even better in the future as and when it all settles down further.

The next Aeroboot / Aerojumble Sale will take place on Saturday 3rd March 2018; booking forms were given out to the participants today and will be available to other sellers shortly.