Jack Berry visited us on 31st May 2021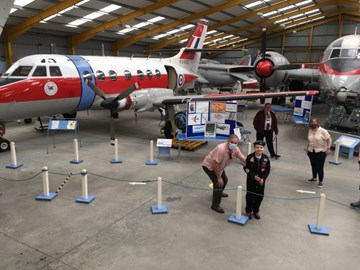 On Monday 31st May, 2021 the museum hosted a visit to its Gateway Aviation Site from young artist Jack Berry, who has recently had a book of his aviation art published by Mention The War Publications. Released earlier this year the book is entitled 'Flying High In The Sunlit Silence' and it is being sold to raise funds for various service charities and organisations.
A display of Jack's paintings was unveiled in Display Hangar 2 at the museum, in a location close to several of Jack's favourite aircraft, notably Jetstream XX492 and Sea Harrier ZA176.
To mark this event, Jack's family were made honorary members of the museum, which coincided with Jack taking up a voluntary role as Teenage Artist in Residence at the museum. Building on this role the museum trustees are looking forward to displaying more of Jack's inspirational aviation art at future museum events.
Jack explored the wider museum site, and met many of his friends and supporter. In advance of the visit the following comments were made by museum trustee, Howard Heeley:
"Towards the end of October 2020, just before the second lockdown I was privileged to host Jack Berry's first visit to the museum. I had made contact with Jack through the museum's Twitter account and on Twitter Jack had been sharing some imaginative aircraft pictures."
He concluded, "During that first visit I made a connection with Jack and I have been looking forward to Covid regulations lifting so that we can host another visit to the museum. I am looking forward to welcoming our new Teenage Artist in Residence back to the museum."