Westland Lynx HC.28 Arrives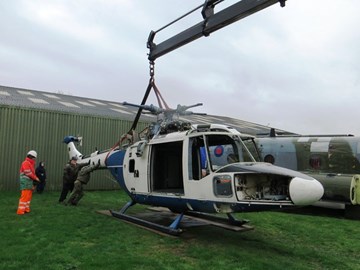 Earlier this year the museum was approached about taking a Lynx helicopter on loan by its owner Andy Rawden. Discussions proceeded with this planned arrangement but now in a generous and unanticipated gesture, Andy has decided to donate the airframe to the museum.

The helicopter in question is Westland Lynx HC.28 QP-31, which has been in store at Fleetlands, Hants for a number of years, where it has been used as a training aid. Built back in 1978 with the code number WA033, this Lynx helicopter initially flew in the UK as a trails unit using the registration G-17-21; before being purchased by the Qatar Ministry of Interior Ministry of Defence (MoD) and delivered to the Qartari Police with the serial QP-31.

Hutchinson Engineering Services of Weston, Notts, completed the helicopter's long-move north from its previous south coast location on Tuesday 18th December, 2018, with the offloading being completed in fading wintery light. This latest helicopter arrival at Newark completes the museum's 'hat-trick' of helicopters in 2018; a feat they last achieved in 1980 with the arrival of the Whirlwind HAS.7, XM685; Sycamore 3, WT933 and Skeeter AOP.12, XL764. On that occasion the acquisitions were completed in just over a month.

"We are extremely grateful to Andy Rawden for his generosity in donating this Lynx helicopter to the museum." commented Dave Hibbert, Museum Trustee & Acquisitions Officer. He continued, "We are pleased to have secured such a unique helicopter for the collection. We appreciate that it will be a long-term rebuild project to complete its restoration and initially it will be stored on site."

He concluded, "However this is a challenge that we relish and we are already trying to source missing items. At Andy's request we will aim to display it in its original Qatari Police Force markings."

Photo Credit: H F Heeley

Follow the progress of our rebuild work on this exhibit on Twitter by clicking on the #LynxQP31rebuild hash-tag!