Aviation Memorials in Nottinghamshire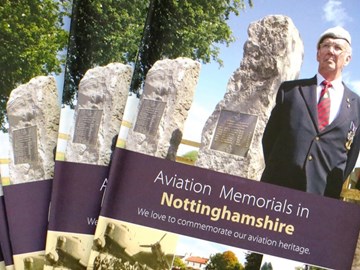 After months of research and preparation a NEW 36 page A5 colour booklet, Aviation Memorials in Nottinghamshire has now been printed and FREE copies are available from the museum.
The booklet has been co-produced by the museum and the Nottinghamshire County Council, as part of the council's Local Improvement Scheme grant programme. It provides an insight into the county's diverse aviation heritage as represented by 40 aviation memorial sites in the county.
During the coming weeks copies will be distributed to most Tourist / Visitor Information Centres and Libraries across the county; plus in the fullness of time and hopefully to a selection of aviation museums and collections across the region.
People can call in at the museum now to pick up a FREE copy and as part of its commitment to the project the museum is willing to send off copies by post to people who request them. Such requests can be sent in via email using this link or telephoned through on 01636 707170 (10.30am to 3.30pm daily). Please provide postal addresses or valid email addresses as appropriate.
If anyone wishes to make a financial contribution towards postage costs, any contributions would be most gratefully received and these can be made to our 'Project Panini Appeal' by clicking through to this weblink here at our JUST GIVING fund raising page

An electronic version of publication is available as a PDF file that is suitable for emailing out via the email link above.
The museum trustees hope that many people will obtain copies of the booklet and that it helps them to see how in Nottinghamshire
"We love to commemorate our aviation heritage."