Shackleton WR977 65th Anniversary
Updated 09.09.22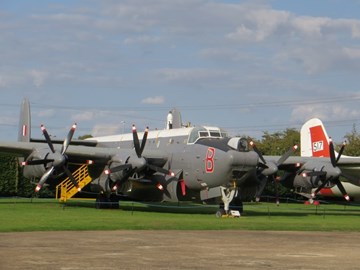 In September 2022 we will be marking the 65th Anniversary of Avro Shackleton WR977 coming off the Avro production line at Woodford and entering RAF service.

Between 1957 and 1971 our Shackleton served with many notable maritime squadrons. After a brief spell with the RAF Reserve Collection at RAF Finningley, WR977 was eventually dismantled and move by road to the museum in spring 1977, where it has been displayed ever since.
Anyone who has followed the history of WR977 will know that it was acquired by the museum from the Lincolnshire's Lancaster Association in December 2021. Currently it is undergoing some major work to help secure its long-term future. By Saturday 10th September we hope to have the refurbished jacks in position so that we can once again allow safe access to the aircraft for staff, volunteers and visitors.
Confirmation of this planned reopening should be known by the end of August 2022 - this is now clear to be open on 10th September, with visitors once again being allowed access to WR977 for a small additional donation.
Sadly, Shackleton T4 cockpit VP269 'Zebedee' is no longer able to attend this event! (06.09.22 update)
During the day a series of short Shackleton related talks will be hosted in the Dambusters Hut, which will allow visitors to gain a fascinating insight into RAF maritime operations. There will also be a Shackleton related model display in Hangar 1; plus the museum's Aeroboot stall will be selling some donated Shackleton items; and the Shop will have a few rare pre-owned Shackleton books on sale!
We also have confirmation that the RAF Waddington Amateur Radio Club wil be operating a station during the event.
The single day event runs alongside our final outdoor Aeroboot / Aerojumble aviation sale of the 2022 season.
Normal museum admission rates apply for this event.