Museum Shop Update 22.07.20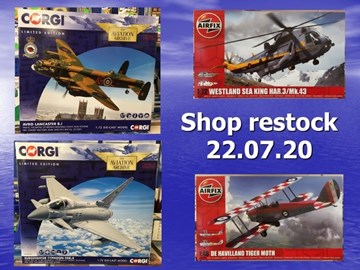 Over recent days we have received several new aviation die-casts & kits into stock in the Museum Shop; pre-ordered items can now be collected.
Corgi AA36419: Typhoon FGR.4 ZJ924, IX(B) Sqn – £70.00 each
Corgi AA34215: Boeing Chinook HC.4 ZA712 18(B) Sqn – £80.00 each
Corgi AA32626: Lancaster B.1 PA474 BBMF – £155.00 each
Airfix A04104: 1/48 Tiger Moth – £20.00 each
Airfix A04063: 1/72 Sea King – £20.00 each Airfix Vintage Classic A03009V: Hawker Siddeley Dominie T.1 – £12.00 each
Airfix Vintage Classic A04007V: Savoia-Marchetti SM.79 – £16.99 each
Airfix Quick-Build: Volkswagen Beetle – £12.99 each
Airfix Quick-Build: Audi TT Coupe – £12.99 each
Airfix Quick-Build: Volkswagen Camper Van (Coca Cola) – £16.99 each
Last admission to shop is at 3.40pm daily; and the museum closes at 4.00pm.
Please remember that from Friday 24th July 2020 that you will need to wear a face covering if you intend to use the Museum Shop.
All profits from the Museum Shop are covenanted to the museum to help fund its on-going development; so rather than shopping online or elsewhere please pay us a visit soon and help support your aviation heritage!