Indoor Aeroboot / Aerojumble 4th April 2020
CANCELLED - updated 17.03.20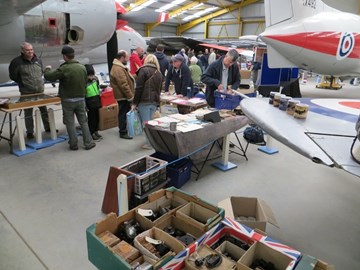 17.03.20 A quick update to advise that the decision has been taken to cancel the Indoor Aeroboot / Aerojumble aviation sale on 4th April. We will provide a more detailed update later & we will be sending an email to those people who have booked tables !

The date for the next Newark Indoor Aeroboot / Aerojumble Sale is on Saturday 4th April 2020.

All of the tables have now been allocated (sold) for the Indoor Aeroboot / Aerojumble aviation sale on 4th April and the museum is now operating a Reserve Waiting List for anyone who might want to book a table if it becomes available! Bookings were taken on a 'first come first served basis' and please note pre-booking is essential as there will be no spaces for people just turning up on the day.

If anyone is interested in adding their name to the waiting list we suggest that you send us an EMAIL using this LINK

The stallholder pass system will be retained for this event, to include stallholders and their helpers. This is to help control how people enter and leave the site during the event. Stallholders need to order the passes they require in advance of the event; and to also forward them to the person using the pass to access the sale.

Gates will open at 7.00am for sellers to set up and the public are admitted at 9.00am these times will be strictly enforced. It is now written into the Terms & Conditions that ALL sellers remain on site and selling until 2.00pm.

A special admission fee of just £4.50 per person will be in use on the day; this is to recognise that some stalls in Hangar 2 are in front of the exhibits, which means that they cannot be viewed or photographed in the normal manner. We suggest that you arrive early to seek the best bargains.

Sellers lists will be added to the website in due course, so get ready to engage into some 'face to face' aviation trading at Newark Air Museum.