We've won a
VisitEngland 2019 Welcome Accolade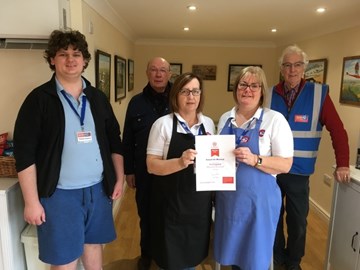 We have recently been advised that we are the winner of a 2019 Visitor Attraction Accolade in the Welcome category, which recognises that we are one of the outstanding visitor experiences on offer across the country.

Our Award follows a VAQAS (Visitor Attraction Quality Assurance Scheme) assessment last autumn and was awarded based on the score they gained during a secret visit by the VisitEngland assessor.

Our Award was one of only six (6) made this year in the East Midlands and of seventy three (73) across the country
The following statement was issued by VisitEngland Director Andrew Stokes:
"England's attractions provide visitors with amazing experiences and these accolades recognise the outstanding customer service and quality on offer across the country."

He continued, "From Best Told Story interpretation to Hidden Gem and overall Gold, these accolades show that there is an attraction capable of capturing everyone's imagination creating lasting memories and spreading the economic benefits from tourism." In conclusion, "The 73 attractions are being recognised as a result of the exceptional experience they provide visitors from story-telling to food and drink and from customer service to overall winners."

Howard Heeley responded on behalf of the museum trustees. "We are honoured to have been recognised in this way by VisitEngland. This Accolade is a tribute to all of the hard work put in by the museum members and our staff, each and every day the we are open to the public; well done to all of them!"

Footnotes.
Introduced by VisitEngland in 2014, the Visitor Attraction Accolades are available to members of the VAQAS scheme. They include the Welcome Accolade, Hidden Gem, Best Told Story, Quality Food and Drink and the Gold Accolade for all-round top-scoring attractions.

VisitEngland's Accolades are designed to celebrate excellence within the visitor attraction sector and showcase those businesses in our VisitEngland Visitor Attraction Quality Scheme that go the extra mile to provide a high quality day out. This could be through a warm welcome, an engaging story, a delicious lunch or the overall visitor experience. Accolades are given for the following categories: Welcome, Best Told Story, Quality Food & Drink, Hidden Gem and Gold.